The SuperScooter GT2 is a high end electric scooter made by Segway with a whopping price tag of $4000, or a discounted price of $3500 on Indiegogo. I have a review unit loaned to me from Segway. My henchman Max has thoroughly tested it, and I've ridden it a little myself as well. The GT2 packs a whole lot of performance and features, but is it worth $4000?
Let's talk about Max's test results, and then we'll go into the GT2's very impressive specs and components.
Test Results
Segway claims a range of 90 km or 56 miles. Huge numbers, but as with most range estimates provided by manufacturers, this was likely using an economy mode and riding at a conservative speed in near perfect conditions.
The range result that Max got while riding not conservatively was 43 km or 27 miles with 3% battery remaining. That's about half of Segway's estimate so remember that range can vary a lot depending on a wide variety of variables. This applies to all electric vehicles.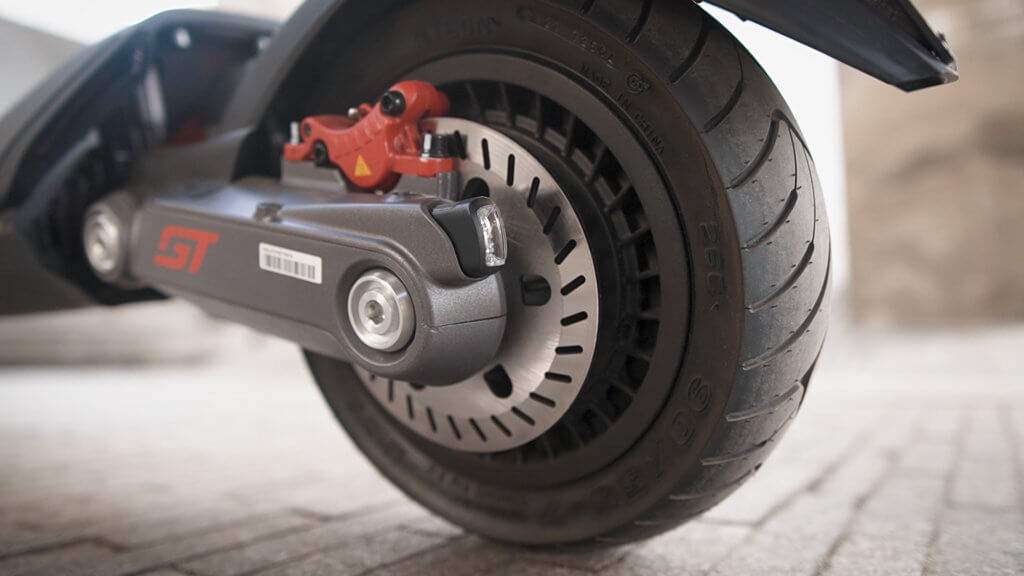 Max weighed 80 kg or 176 lb at the time of testing, and the weather was a cool 13 ºC or 55 ºF. His average ride speed was 49 km/h or 30 mph. For the majority of his ride he was going full throttle in Sport mode, which drains the battery significantly faster than riding at a more relaxing pace.
The top speed reported by the GT2 speedometer was 69 km/h or 43 mph, which matches what Segway claims. According to Segway, the GT2 goes from 0 to 30 mph in 3.9 seconds. We didn't measure that ourselves but we can say that the acceleration on full throttle felt incredibly strong.
Specs & Components
The battery in this thing is 1512 Wh. That's over twice the capacity of most electric scooters and skateboards.
To keep the pack cool when the motors are drawing maximum power, there's a system Segway calls HeatFlux Multi-layer Cooling System. From what I can tell, they consist of vents on the front and rear of the deck that draw air across some radiators or heat sinks to cool down the battery cells. Like other scooters with similar cooling systems, the majority of the intake is right behind the front wheel. We speculate that it could get clogged up by dirt and grime over time, so you might want to give it a quick brush every now and then.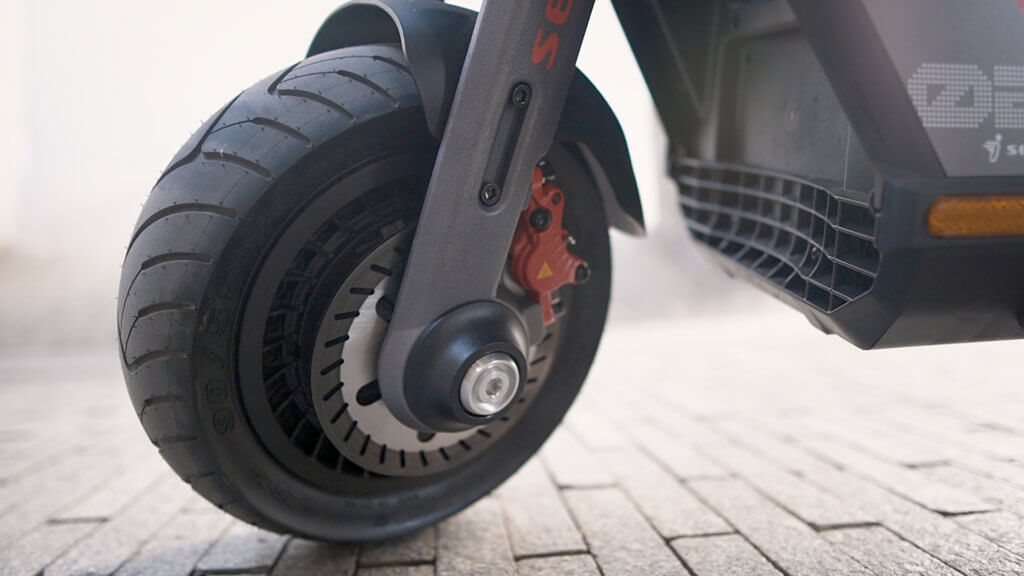 To charge this absolute unit of a battery, a pair of 2A chargers are included in the box. If you plug both in, it takes about 8 hours to charge from zero to full. That gets doubled to 16 hours if you use just one charger. It seems weird to not just ship with one fast charger, but apparently using two chargers simultaneously is a common thing among high powered scooters.
The wheels on the GT2 are absolute chonkers and with that chonkiness comes ride comfort, traction and safety. They're 11- by 3.6-inch tubeless pneumatic tires. For reference, most electric scooters come with 8- to 9-inch tires, so 11-inch is quite huge.
To minimize the risk of punctures, the tires on the GT2 have a layer of tire-liner pre-installed, which seals any small punctures that may occur during a long ride. Features like this aren't immediately appreciable until you encounter a flat, so it's pretty nice that Segway decided to include it.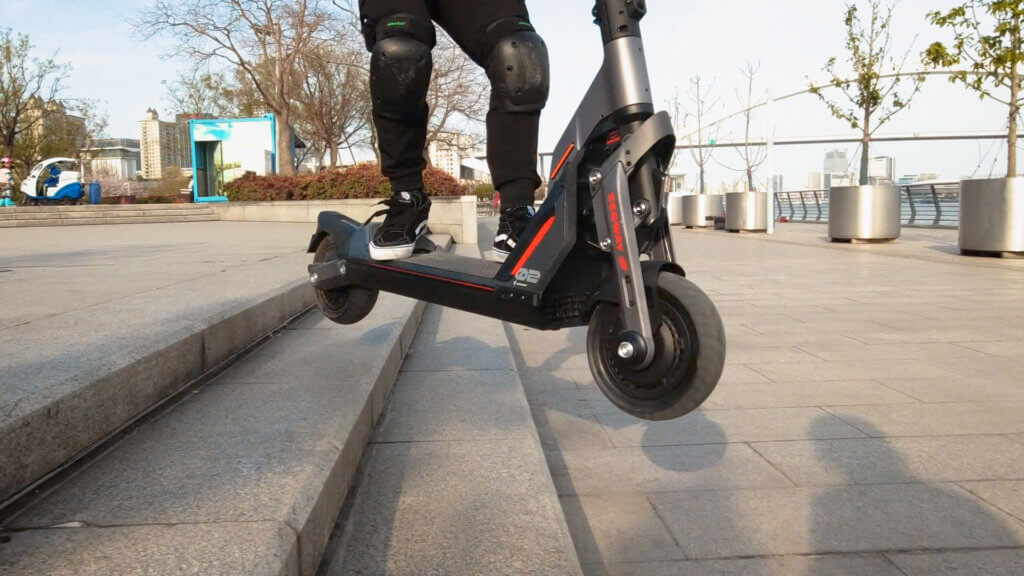 Inside each wheel is a 1500W motor, which draws a peak power of 3000W each. Segway claims it can accelerate a rider from zero to 30 mph or 48 km/h in just under 4 seconds. I haven't tried it out for myself, but Max has some experience building his own electric scooters, and he was pretty impressed by the torque.
The GT2 has a traction control system that adjusts the torque put out by each motor to increase traction on slippery roads. It's pretty rare to see electronic traction control implemented in electric scooters. Most scooters in this class have anti-lock braking systems instead, which seems to have a reputation for being rather ineffective and janky. Seems like Segway has really put a lot of thought into the safety of the GT2.
Of course, if you want to do some donuts in the parking lot, just switch to Race mode, which turns off traction control. According to Max, he could definitely feel the difference between having traction control on or off, especially in the front wheel when accelerating hard.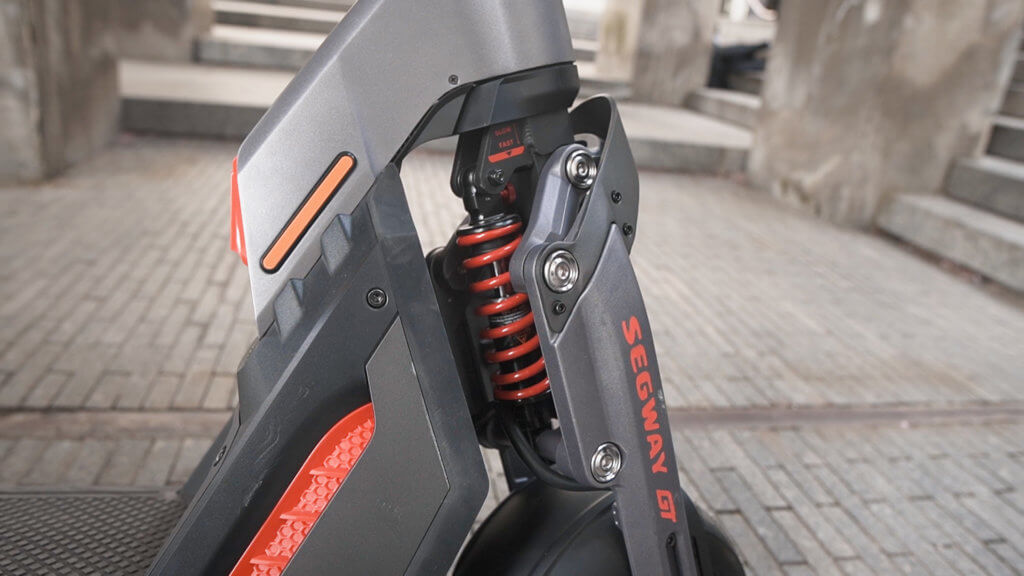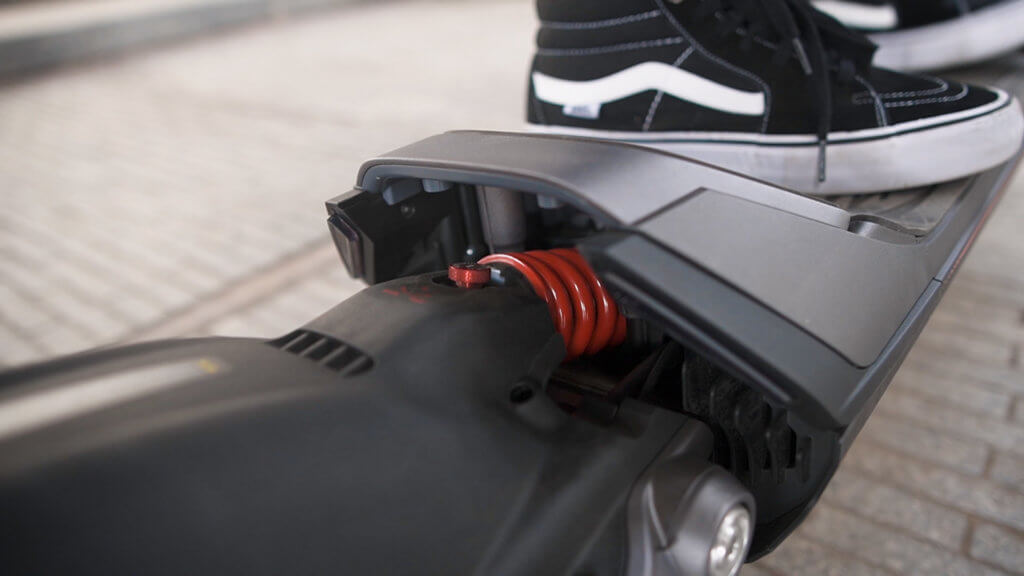 There's a double wishbone suspension system on the front and a trailing-arm suspension in the rear. They both have 15 levels of adjustment for the hydraulic dampers. To tune it, there's a little red knob that you turn. Adjustable damping isn't just useful for off-roading – having it dialed in for your weight and riding style can improve the comfort and safety on regular old roads too.
The GT2 has dual piston hydraulic brakes with 140mm discs, with regen braking in the back wheel, which should further improve braking power, with the added bonus of recharging the battery a little at the same time.
From what I can tell, they're also compatible with standard mountain bike brakes. So if you want to replace or upgrade any part of the brake system, it should be plug and play.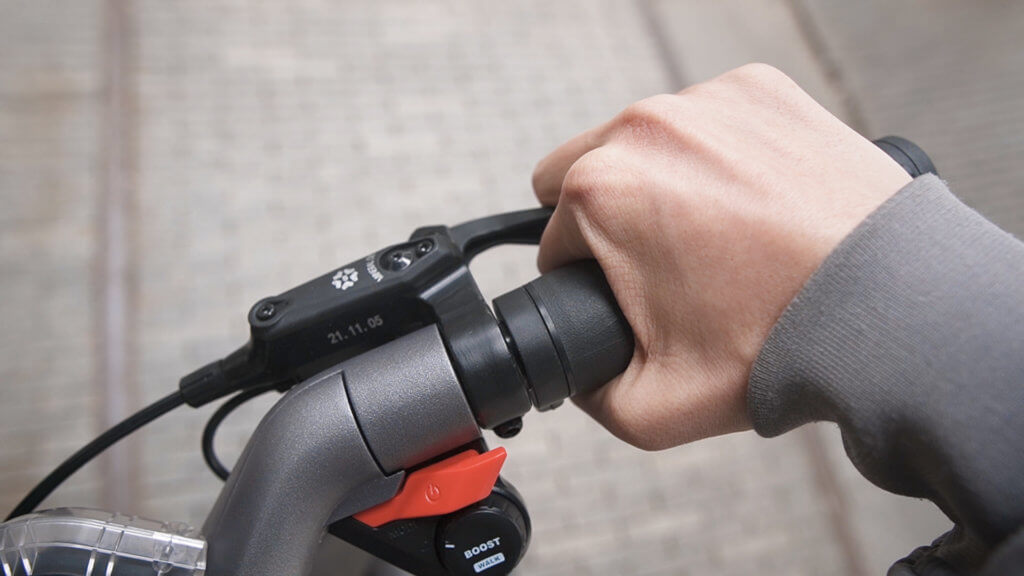 Twisting the shift knob changes riding modes, which include Walk, Park, Eco, Sport, and Race. There's also a Boost mode for you speed junkies that's activated by pressing down on the same knob.
The torque is already incredible even without using Boost. Speaking for myself, even Eco mode felt really powerful.
According to Max, the handlebar is well designed and all buttons were within reach of his thumbs. His only minor critique on the handlebar is that there's no room to mount anything, such as a camera.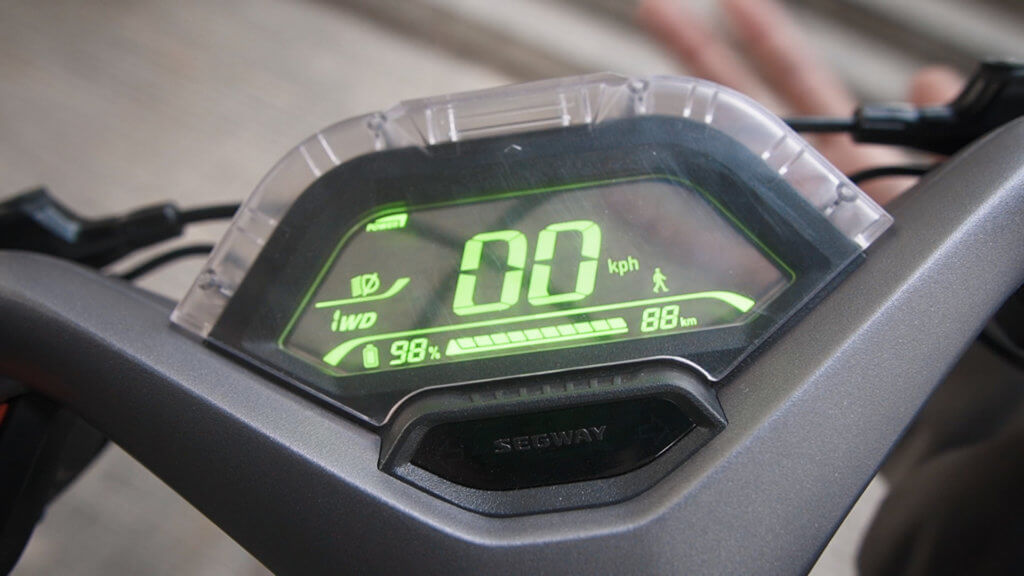 The PMOLED display on the GT2 is transparent and easy to read even under bright sunlight. It looks pretty awesome and kind of resembles a fighter jet's heads up display. The layout is similar to what you'd find on a car dashboard, with your speed, riding mode, battery percentage, et cetera.
This thing has a ton of lights. There's a main headlight, a daytime running light, turn signal lights on the front and back, a brake light, and even party lights.
The headlight has a max brightness of 900 lumens. That's plenty for night time use. For reference, high beam lights in cars start at around 1200 lumens.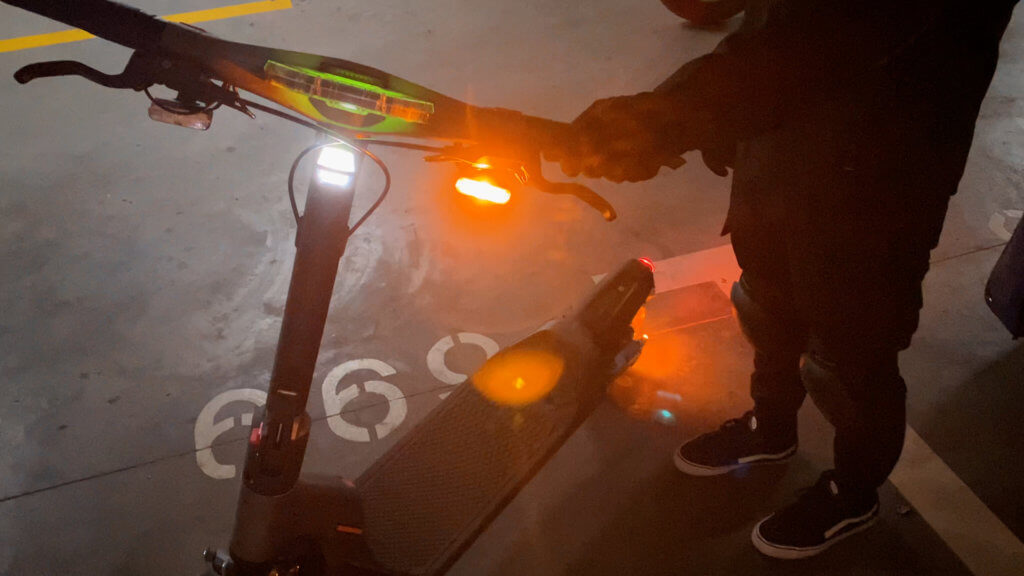 The standing area of the deck measures 69 by 24.5 cm. That's 27 by 9.5 inches. The surface is made of textured rubber which is decently grippy and comfortable. It's just wide enough to ride with your feet side by side. For a more skate-like stance, it's plenty comfortable, with a pocket on the front to snuggle your toes into, and a wedge on the back to brace against when accelerating hard.
The long wheelbase of 114.5 cm or 45 inches and the relatively low ride height of 22 cm or 8.7 inches provides much needed stability when riding at high speeds.
Portability & More
The only real issue we had with the GT2 is its portability. This thing is heavy! At 53 kg or 117 lb, the portability of the GT2 is closer to the kind of scooter that you sit on than a traditional kick scooter. While it does fit inside the back of an SUV, it was not easy putting it in and taking it out because of how heavy it was. It's definitely not something you'll want to do everyday.
Even moving it up or down a couple steps was difficult, so this is something to consider if you have to deal with stairs. If you need a scooter that you can pick up, the GT2 is not for you. You'll definitely want to use a ramp or an elevator.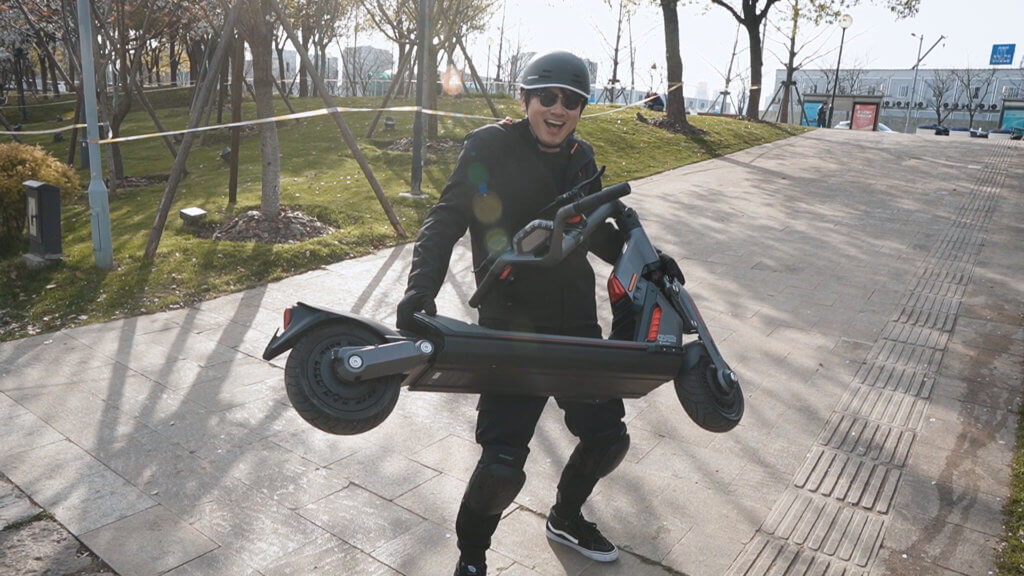 There's a couple of other cool features like Sentinel mode, walk assist, cruise control, and NFC unlock.
Sentinel mode is something like an anti theft mode for when you've got to hop into the convenience store for a moment, or quickly rob a bank. The scooter basically locks itself, sounding a loud alarm and freezes the motors if someone tries to move it without first unlocking it. And trust me – no one's going to pick it up and run away with it. This is a feature I think all electric scooters should adopt.
The design style of the GT2 is a huge distinguishing feature from other high performance electric scooters. The cockpit layout, the suspension design, the cooling vents, and even the splash-guards all feel extremely well thought out and polished with a coherent theme throughout. This is one of the few PEVs that look great from a distance and even better up close. In fact, the design kind of has a mecha style going, which I obviously think is awesome.
The frame is made of aircraft grade aluminum which Segway says can handle a max rider weight of 150kg or 330 pounds.
The duration of the warranty on the GT2 is different for each component. Some parts, like the hub motors, are covered for 2 years. The battery is covered for 1 year. And even the consumable parts like tires and brake pads have warranty for 30 days.
Segway has authorized dealers and service centers across the globe – more than 30 of them in just North America. You can find them on Segway's website. Segway also sells replacement parts for those who want to service the scooter on your own.
Is it for you?
Many e-scooters in the high performance category can look and feel a little rough around the edges, with a function over form design philosophy. There's definitely a market for that, for the enthusiasts looking for the most performance per dollar. And those products really do push the limits of electric scooter performance.
But the GT2 seems to be trying to attract a different kind of audience. Compared to other high performance scooters around $4000, it doesn't have the largest battery or the highest top speed, but most of us don't need those kinds of specs anyway.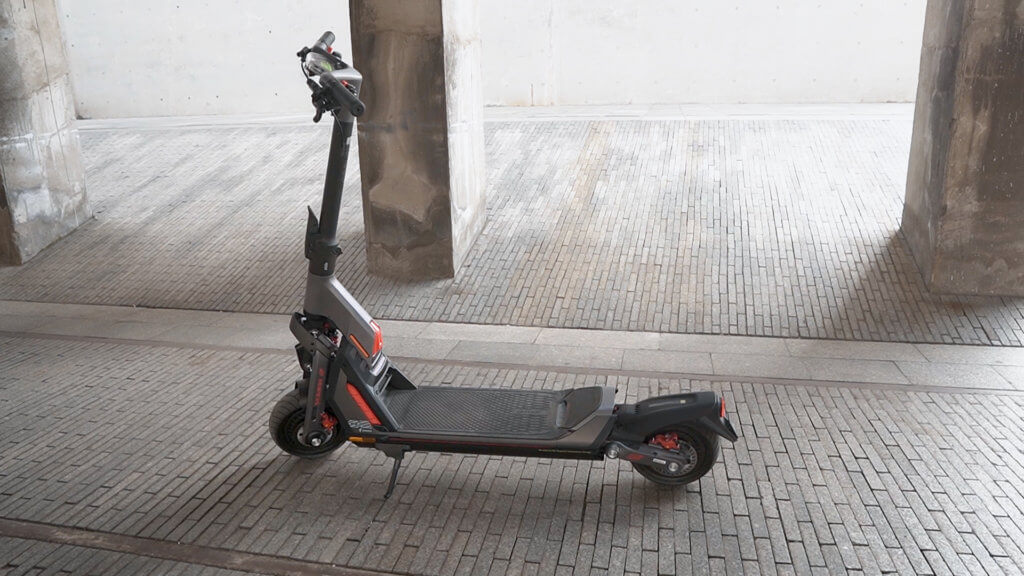 What the GT2 has to offer is a more holistic and well-rounded experience for the rider with all its unique quality of life and safety features – without skimping on performance that most riders can reasonably appreciate. All of that packaged in an aesthetically pleasing design with exceptional fit and finish.
The SuperScooter GT2 is a fast and powerful street cruiser, a daily driver that's more than powerful enough for weekend thrill rides. And for some, probably the best looking scooter at this price point.
So if you're looking to throw $4000 at an electric scooter, the GT2 is absolutely worth considering.