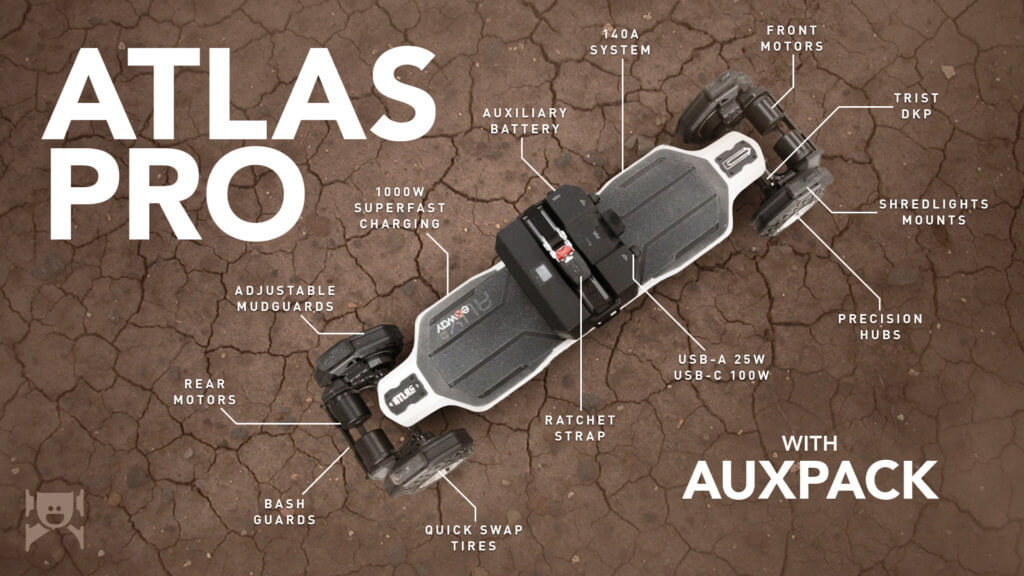 The Most High-Tech Electric Skateboard You Can Buy
Any electric skateboard brand can make a board that goes faster and farther every year by continuing to sacrifice a little more portability. Bigger motors. Bigger battery. Mission accomplished.
With the Atlas Pro, Exway has done…the same.
But! They've also added new features and updates that nobody else has, making this board desirable even for people like me who don't usually ride large boards.
Let's start off this review with the basics before we get into all the special features of this board that no other boards have.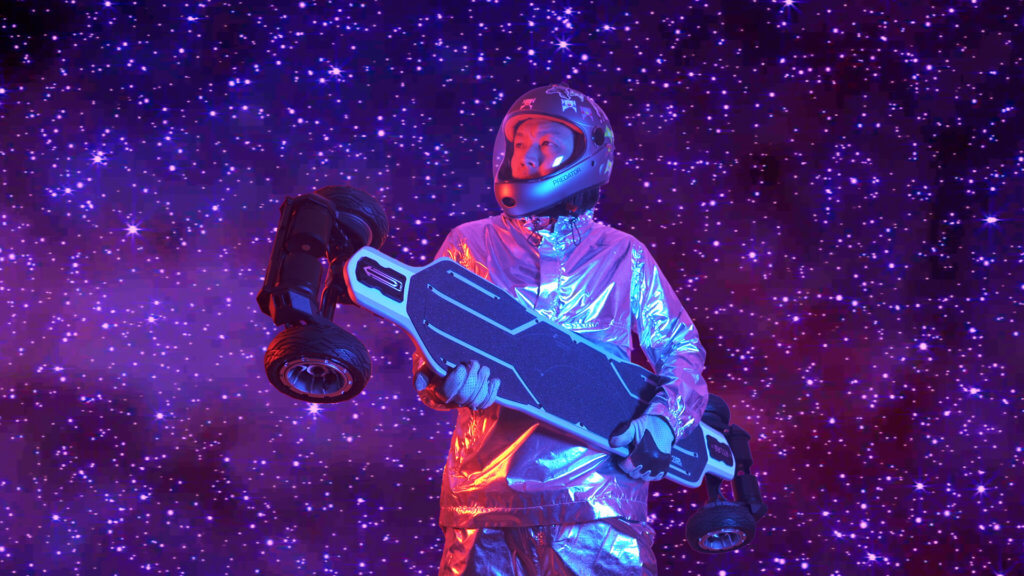 The Basic Stuff
As far as I can tell, the Atlas Pro deck is the same as the original Atlas deck except for the increased coarseness of the grip tape. It continues to be a sleek, unibody, carbon fiber deck that's 100cm long, and 25.5cm wide.
Atlas Pro Deck
100 × 25.5 cm
39 × 10 in
Carbon Fiber Unibody
The concave is subtle enough to be comfortable, but also curves at the right places for additional leverage and to act as reference points for your feet.
Like most boards in this category, the deck has a slight drop and drop-through mounted trucks for additional stability.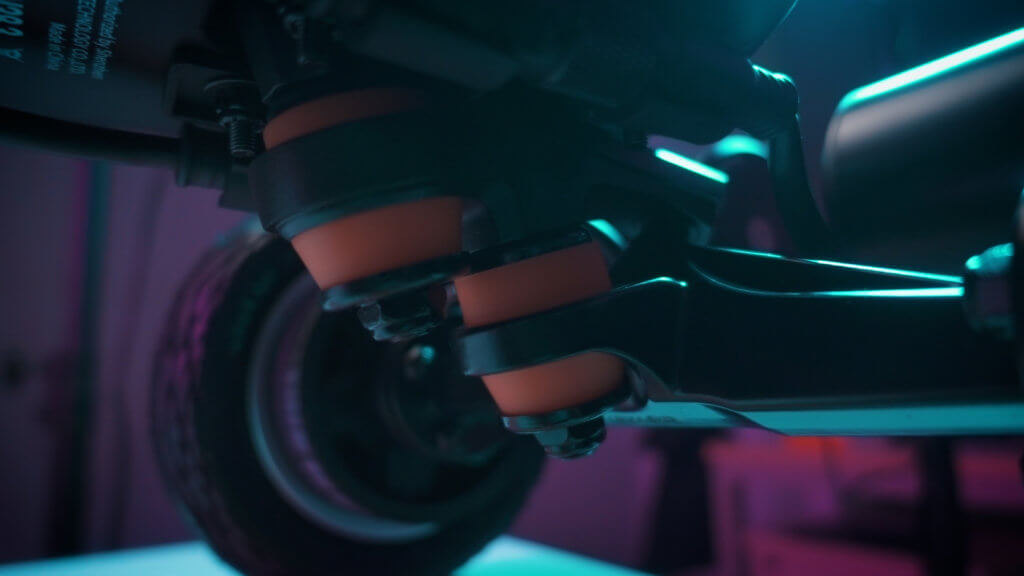 The Atlas Pro continues to use Exway's double kingpin Trist trucks, but with a hanger that is now 1 inch longer for increased stability.
Exway's double kingpin trucks are much more stable than other double kingpin trucks because of its unique geometry, but they've gone a step further on the Atlas Pro by including two different sets of bushings.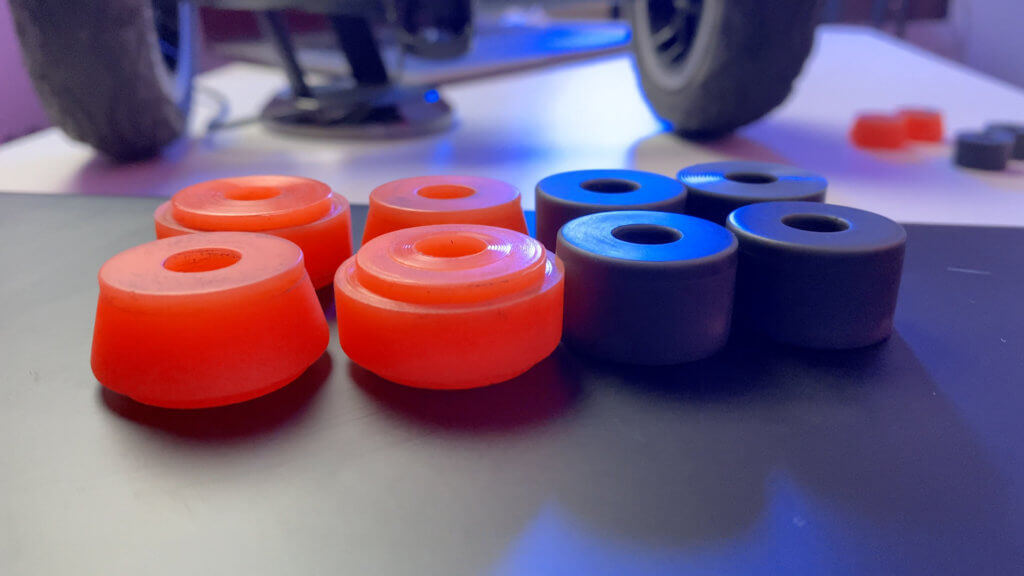 One set is the same as the Atlas bushings: high rebound 92A barrels for carving. And the other is an oversized low rebound 95A set made for high speed stability. These resemble Venom Eliminators.
Atlas Pro Trucks
Exway Trist
Double Kingpin
10.5-inch
Atlas Pro Bushings Set 1/2
92A Barrels × 8
High Rebound
Use Case: Low to Medium Speed Carving
Atlas Pro Bushings Set 2/2
95A Stepped Barrels × 4
95A Stepped Cones × 4
Low Rebound
Use Case: High Speed Stability
If you'll be using the AUXPack, which I'll talk about later, you'll also want to use these fat bushings.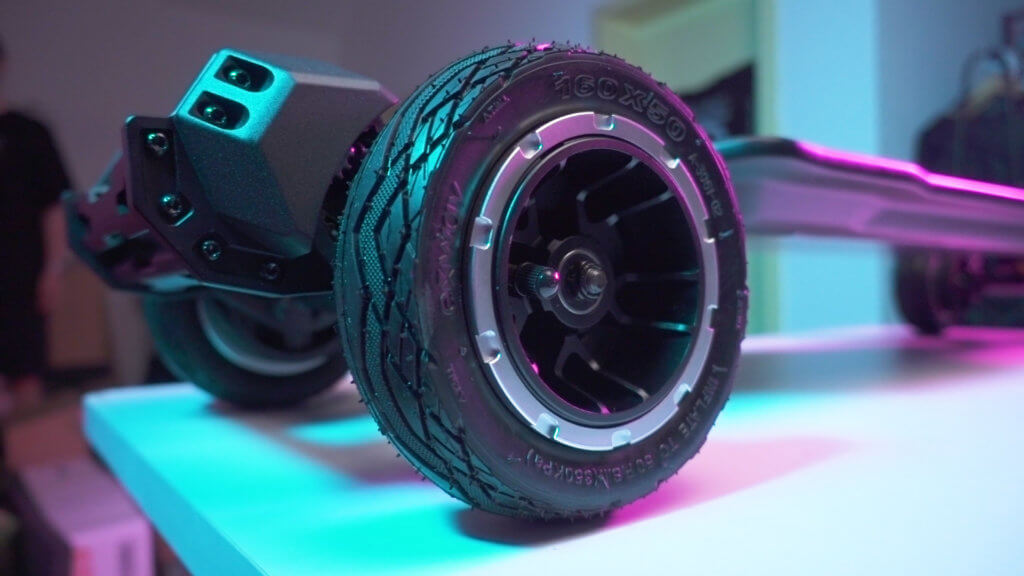 The stock all-terrain wheels continue to be 160mm in diameter, but the hubs have been upgraded to aluminum precision hubs with a quick release feature that makes changing tires way faster and easier.
Atlas Pro Wheels (Stock)
160 mm diameter
50 mm width
Precision Hubs with Quick Release
Use Case: All Purpose
Exway also sells 175mm knobby tires for off-roading, and soon they'll release racing tires for those who are all about that lean.
Since this is belt drive and Exway has a bunch of different pulleys to choose from, you have a ton of different aftermarket wheels you can use with the Atlas Pro.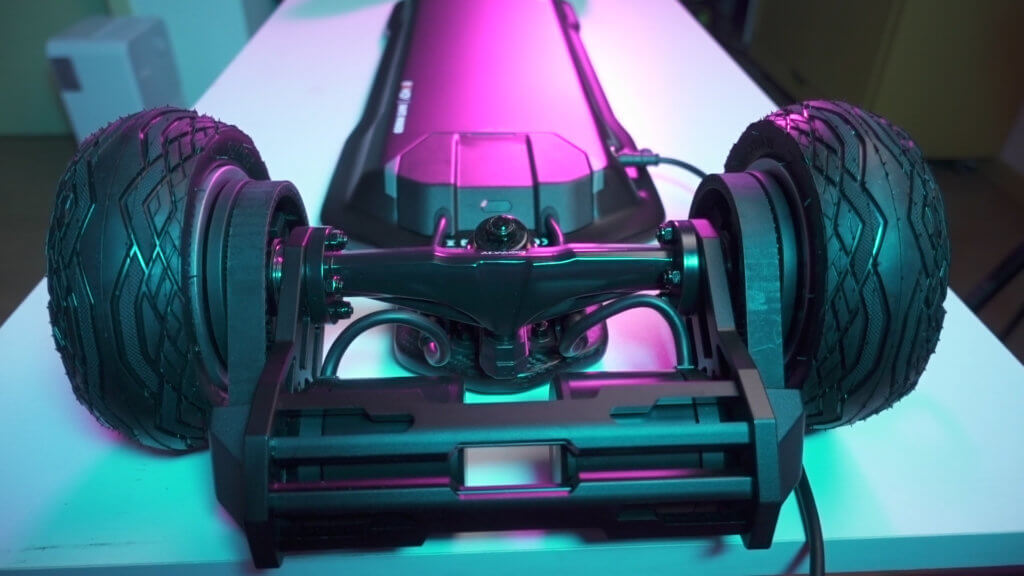 Exway has also just released a heavy-duty gear drive system using chromoly steel for the helical gears and thrust bearings to handle large amounts of axial forces. I'm not sure what I just said there but it sounds impressive. I'll let you know more after I try it out.
Like Exway's other boards, the different drivetrains for the Atlas Pro are interchangeable. You just swap them and choose the correct drivetrain in the ExSkate app.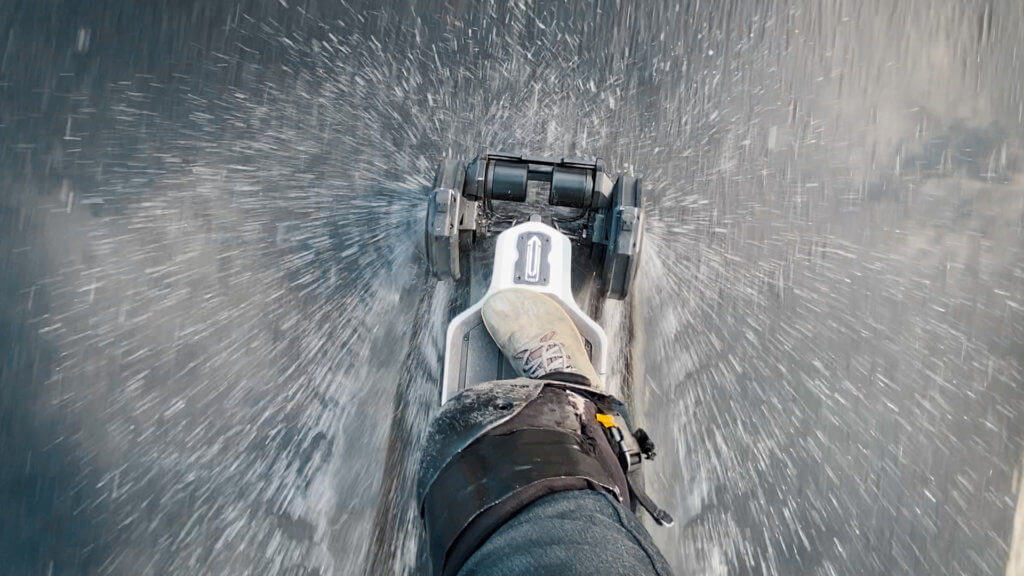 If you'll be splashing up water or rocks, or if you have ShredLights, the new Atlas Pro mudguards may be a good investment. They've been upgraded from the Atlas mudguards to be easier to install, and they are adjustable to fit tires up to 175mm.
Mounts for ShredLights are already built in.
Atlas Pro Battery (Internal)
701Wh 12S4P
Lishen 21700 4000mAh
Compared to the original Atlas, the Atlas Pro's internal battery has a 35% larger capacity at 701Wh.
There's an optional external battery called the AUXPack that more than doubles the range. I'll be talking about that and the range later in this video.
Atlas Pro Motors
53 × 40 mm Stator
63 × 70 mm Rotor
155Kv
Fun Fact
Motor size for electric skateboards are usually expressed as a 4- or 5-digit number with the first two digits representing the diameter of the rotor and the remaining digits the length. Example: "6370" for "60 mm diameter, 70 mm length."
Listing the rotor size is de facto industry standard but the size of the stator is actually more meaningful. As far as I know, only Exway lists the stator size.
Each Atlas Pro motor is 26% larger in stator volume than the Atlas motor. And the two ESCs are now smaller and more powerful, with the peak output of the overall system compared to the Atlas increased by 75% for 2WD, and 133% for 4WD.
What does all that mean? It means this is one of the most powerful production boards in climbing hills, acceleration, and top speed.
Atlas Pro System Peak Power
2WD: 50.4V * 70A = 3528W
4WD: 50.4V * 140A = 7056W
Fun Fact
Except for Exway, electric skateboard brands almost never list the power that the board is able to send to the wheels. Instead, they show the power that the motors can handle in theory. This is like buying a bag of potato chips and being shown the size of the bag instead of how much chips you actually get.
To make things even more confusing, not all brands express motor power the same way. While two different brands may use the same exact motor, one may list it as 1500W and the other show it as 3000W.
This is why I don't talk about motor power in my reviews anymore and I advise you to completely ignore that number when shopping for an electric skateboard. Intentional or not, it misleads customers.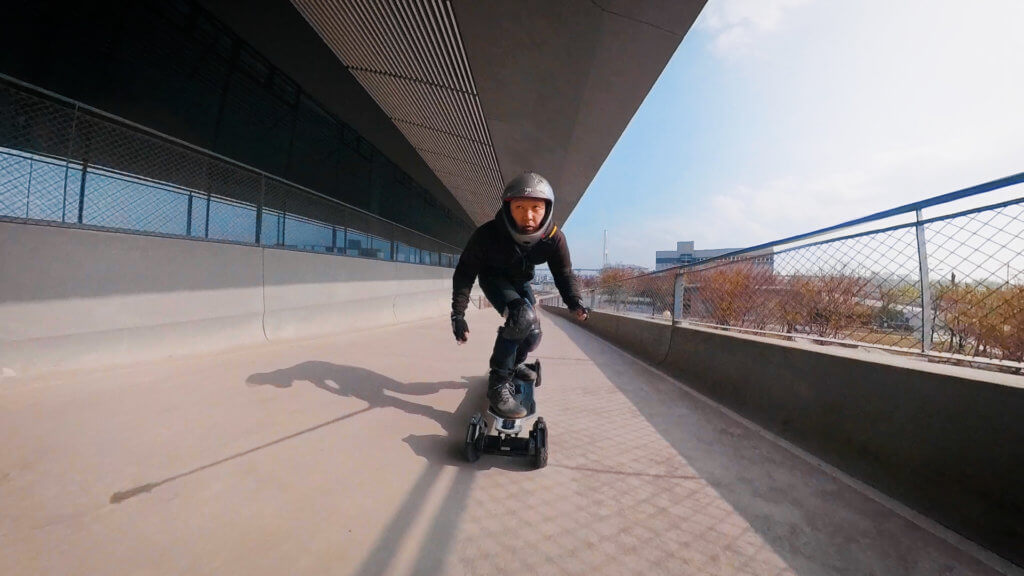 This board goes up to 60 km/h (37 mph), which I don't recommend that you try unless you're a professional in a controlled environment.
Now that the basics are out of the way, let's move on to the really interesting stuff. I'm going to talk about range, the AUXPack, the 1000W super fast charger, and new features coming for free via software updates.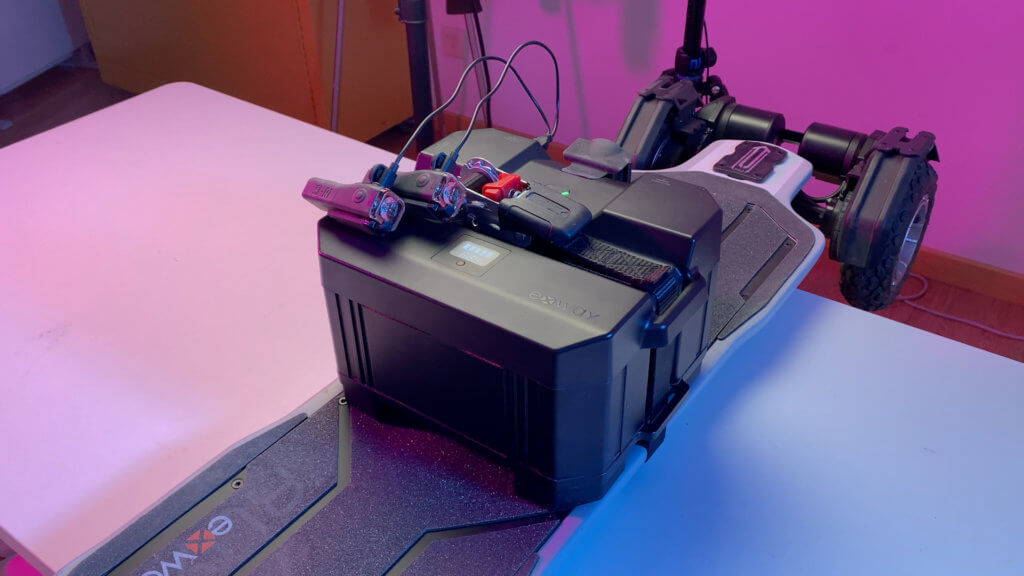 The Really Interesting Stuff
The AUXPack is a 1037Wh external battery pack that is used together with the Atlas Pro's internal battery for a combined total of 1738Wh. That is nearly 2.5x the capacity of the internal battery.
AUXPack
1037Wh 12S6P
Samsung 40T 21700 4000mAh
Combined Capacity: 1738Wh
Use Case: Ride really far!
Sold Separately
It comes with a 25W USB-A port and a 100W USB-C PD port, but this isn't just a portable power station attached to the board. The entire thing, from the mounting mechanism to the housing, is both deceptively simple and thoughtfully designed.
The replacement deck cover has a built-in port for plugging a 140A connector between the board and the AUXPack. The bottom of the AUXPack has rubber soles that match the shape of the deck's concave and absorbs vibrations.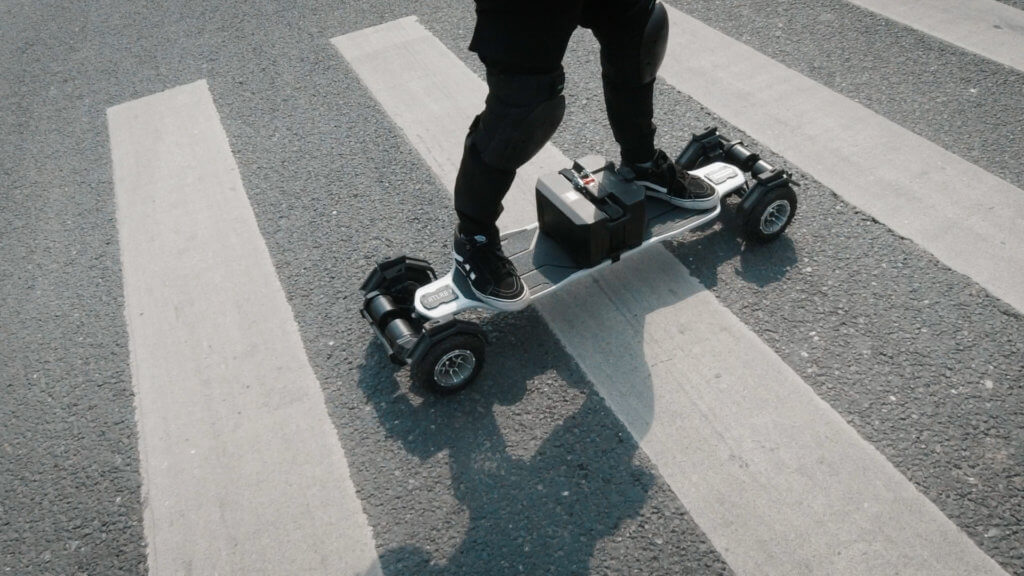 The unit is held down securely by a ratcheting strap. The battery housing appears to be incredibly strong. There's a display that shows the remaining power. And every single port has robust weather protection.
Let's now talk about range with and without the AUXPack.
Range Tests
With my henchmen Max and Ian, we range tested two Atlas Pros at the same time.
One of them is in the most basic configuration: 2WD with stock wheels and just the internal battery. The other is 4WD with the knobby tires and mudguards, and with the AUXPack attached.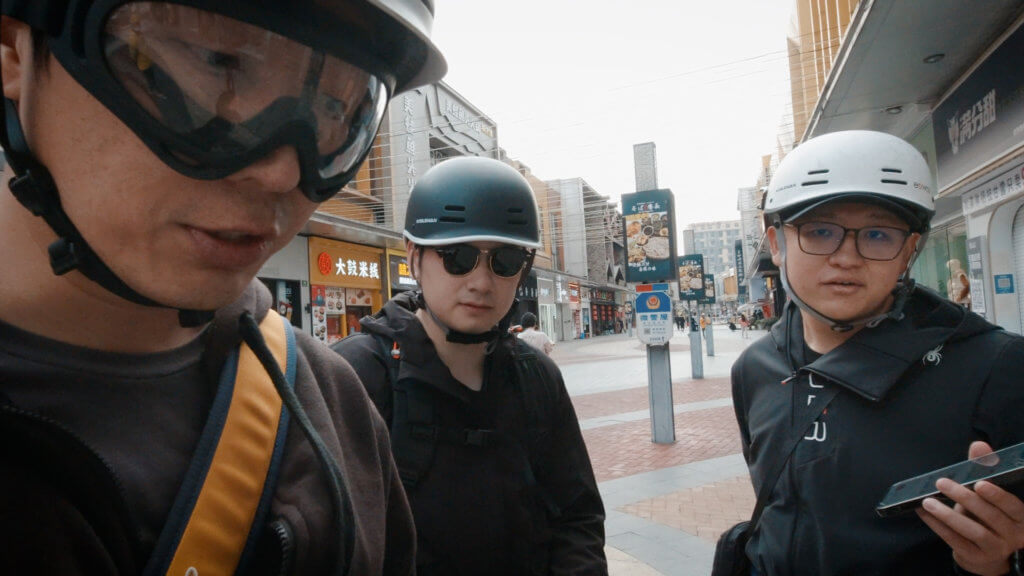 With the stuff we were carrying, all three of us were roughly the same weight. Max was 86kg, Ian was 85, and I was 83. The weather was about 20ºC.
Range Test Conditions
Max: 86 kg / 190 lb
Ian: 85 kg / 187 lb
Daniel: 83 kg / 183 lb
Weather: 20ºC / 68ºF
Terrain: Mostly Flat
Tire Pressure: Normal
Ride Style: Casual
Note: Many variables affect range, far more than what I listed here.
Because the AUXPack gave the 4WD so much range, we ended up range testing the 2WD twice in the same day.
In the first test, from a full battery down to 10%, the 2WD got 32km according to the remote, and 31km according the GPS app on my phone.
After charging back to 100% – in only a half-hour, which I'll talk more about later – we continued riding. This time we rode the 2WD down to 21%. According to the remote we traveled another 30km.
Again, just a reminder, we did not use up the entire battery. The first test was down to 10%, and the second was to 21%.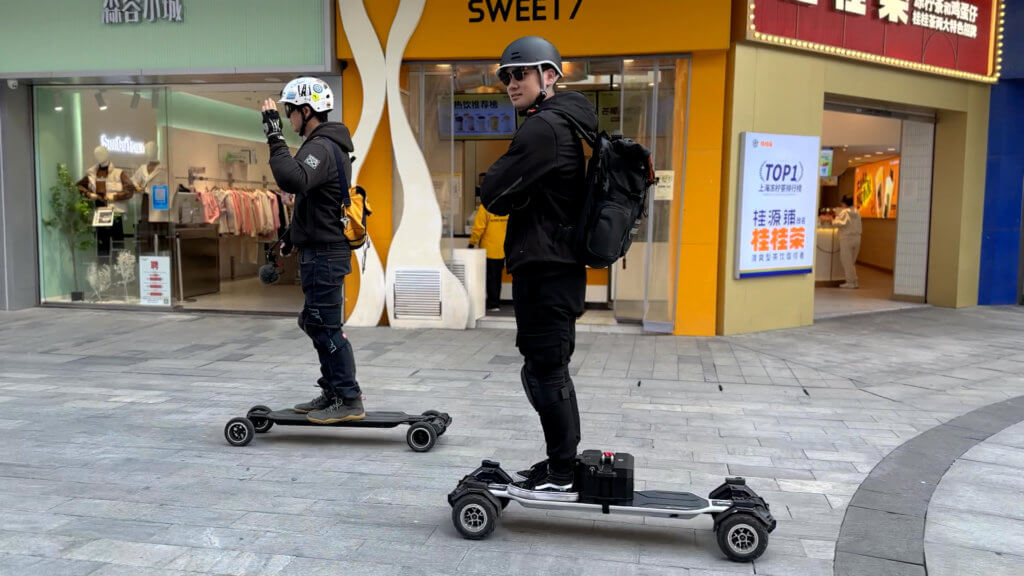 We charged the board back to 100% for a second time – also in just a half-hour – and continued riding because the 4WD with the AUXPack still had a good amount of power left.
Atlas Pro 2WD Range Test 1
701Wh
160 mm Stock Wheels
100% to 10%
32.3 km / 20.1 mi on Remote
31.4 km / 19.5 mi on GPS App
Atlas Pro 2WD Range Test 2
701Wh
160 mm Stock Wheels
100% to 21%
30.4 km / 18.9 mi on Remote
Now let's talk about the range with the AUXPack. Again, this was on the 4WD with knobby tires, so the board was consuming more power than the 2WD.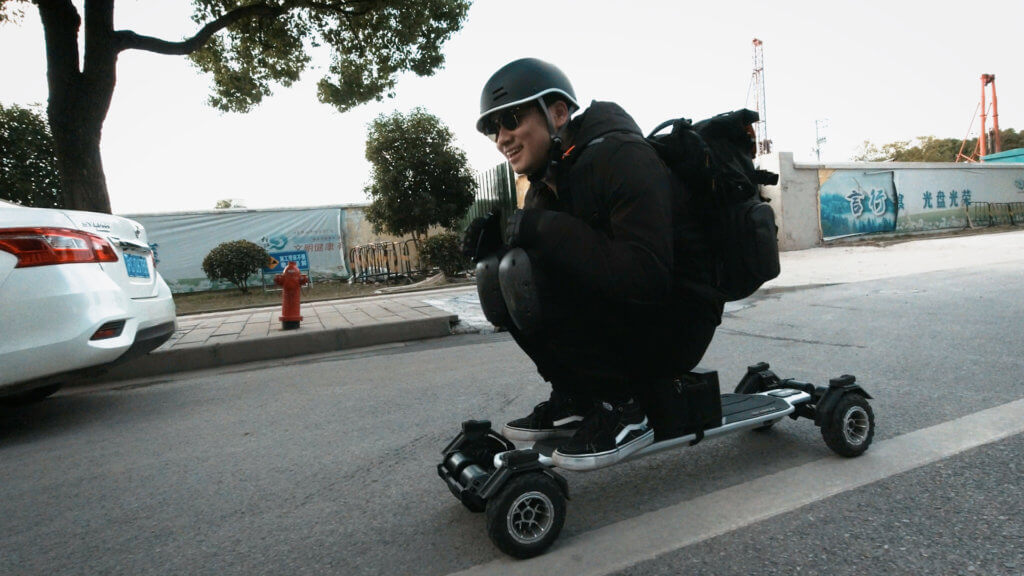 Unlike the 2WD, we rode the board down to 2% battery. According to the remote, we got 72km. And according to Ian's GPS app, we got about 78km. Quite a big discrepancy there, but as long as there's a good GPS signal, I'm more inclined to trust the GPS number.
Atlas Pro 4WD with AUXPack Range Test
1738Wh
175 mm Knobbies
100% to 2%
72.4 km / 45.0 mi on Remote
77.7 km / 48.3 mi on GPS App
Note: Sometime after performing these range tests, I saw that Exway had released a firmware update to improve the accuracy of distance measurements.
Anyway, those were the numbers that we got. This was my first time in years riding more than 70km in a single day. And this was my first time riding more than 70km on a single charge.
Remember how I said we recharged the 2WD back to 100% within just a half-hour, twice in the same day? Let's talk about that.
By the way, if this video has been informative so far, do me a favor and tap the like button.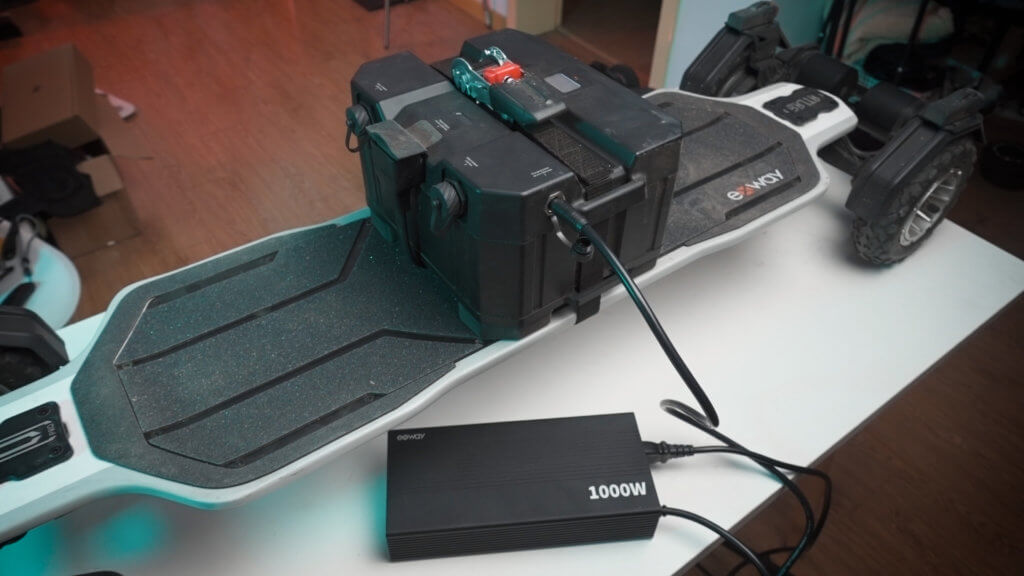 1000W Super Fast Charger
During our range tests, when the 2WD Atlas Pro was down to about 10% battery, we happened to be next to a shopping center with some restaurants. The 4WD with the AUXPack still had plenty of power left for its range test, so we plugged in only the 2WD and used the 1000W charger.
Super Fast Charger
1000W 20A
Sold Separately

Standard Charger
200W 4A
Included
We ordered our noodles, and after 30 minutes I went to check on the board. The remote was showing 5 out of 5 bars on the battery indicator, which could mean anywhere from 80% to 100%, so I checked the ExSkate app for a more precise number.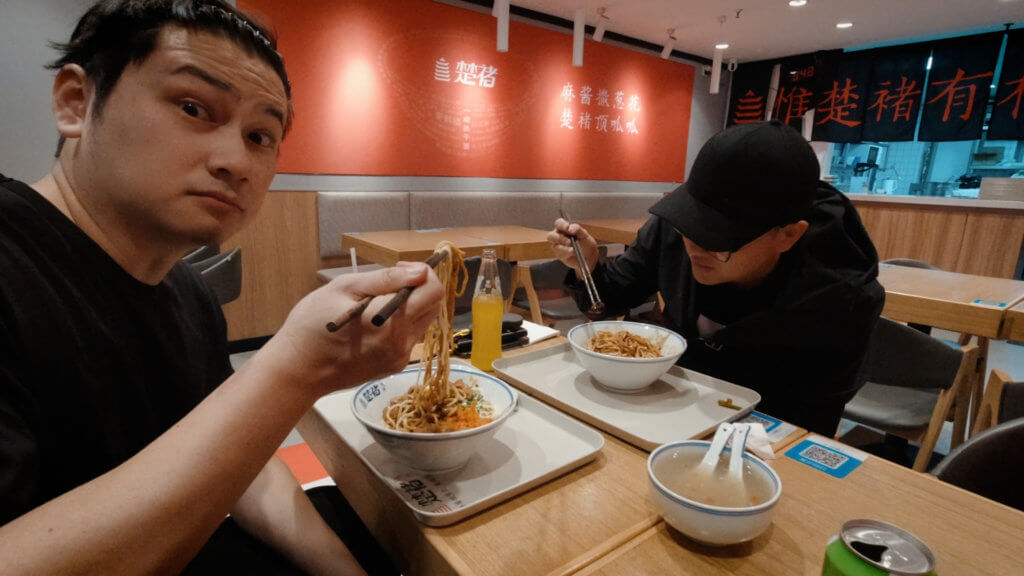 To my surprise, the app showed that the battery was at 100%. We had just barely finished our meal and the board was already good to go.
Since I did not check on the board before 30 minutes, I don't actually know when it reached 100%. I also don't know if 100% is actually 100%. These things may not be that accurate.
According Exway's own website, the 1000W charger should recharge the Atlas Pro 50% in 30 minutes, not 100%. I'm not sure if they were being conservative or what but I'm just reporting my results.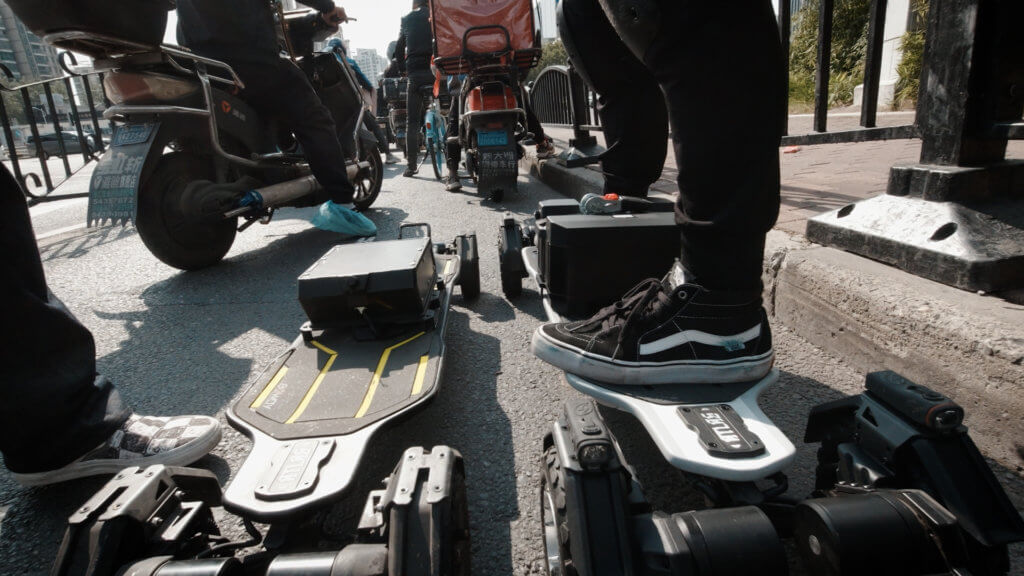 From the restaurant to our next charging stop, we rode for another 30km – this time from 100% down to 21%, meaning we could have gone about 7km further under the same conditions.
So even if 100% isn't actually 100%, it should be close just from the fact that we rode for another 30km using only about 80% of the battery.
We plugged in the board again to the super fast charger and ordered our beverages. 30 minutes flew by, I checked the ExSkate app, and the board was once again at 100%.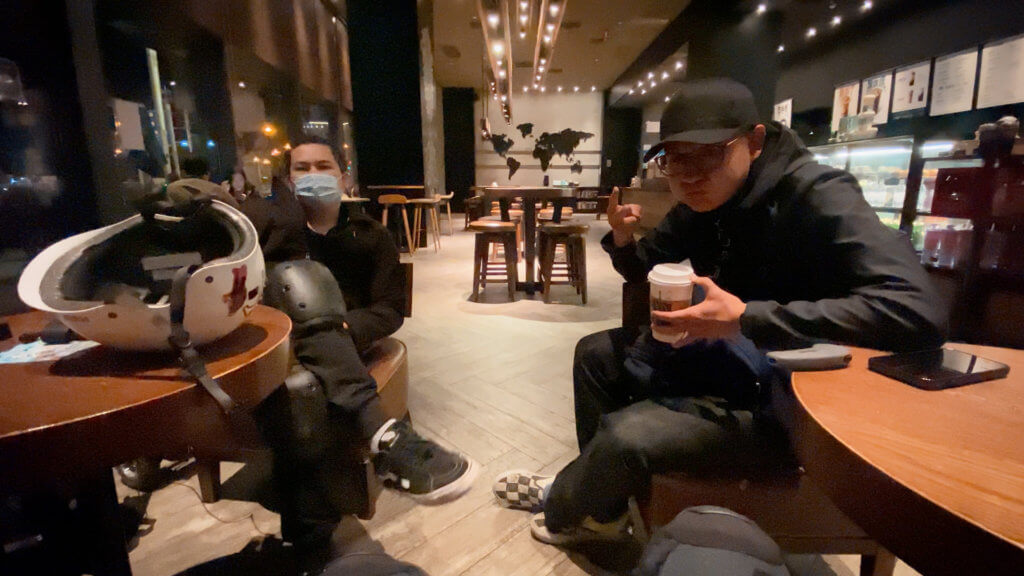 For those of you new to electric skateboarding, let me try to explain how significant this is.
I've had a lot of electric skateboards, ranging from under 100Wh to over 1000Wh. Some of them have chargers, but I have never had a board recharge from empty to full in anywhere near just a half hour.
Let me put it another way. I have never had a board recharge for just 30 minutes, and then be able to ride for another 30 kilometers. This totally changes the experience and possibilities for long distance rides.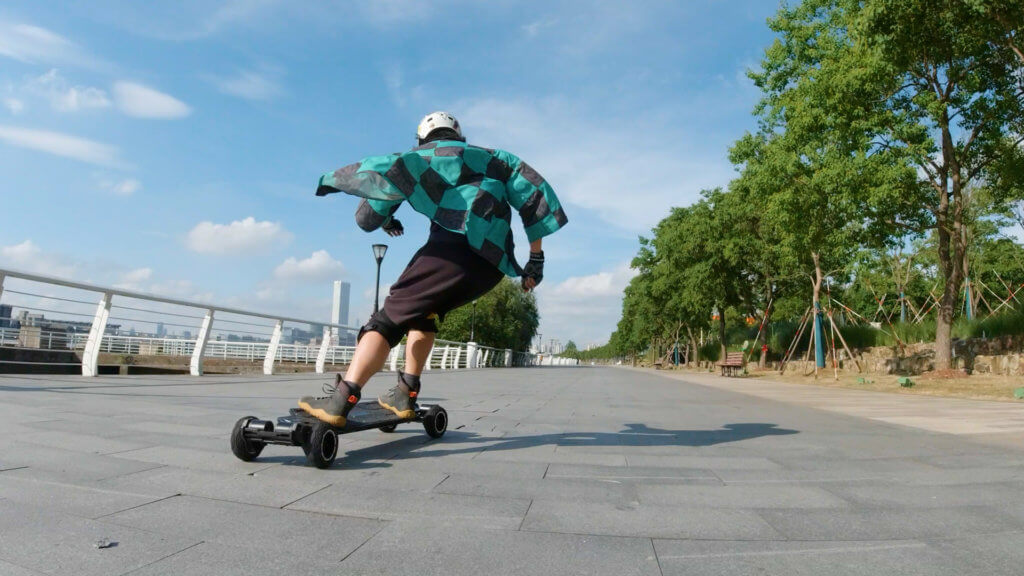 For those who say that this is bad for the battery compared to using a slower charger: well, yeah it is. But riding fast is technically also bad for the battery. Riding uphill, also bad for the battery. Gaining weight, also bad for the battery. It's the price we pay for a better experience.
And being able to recharge this quickly and minimize downtime is an awesome experience!
Back at the studio, I recharged the AUXPack together with the internal battery using the 1000W charger. From 5% to 100%, it took 1 hour and 23 minutes. Again that was 100% according to the app. The charger was still charging, but I think it was just trickle charging at that point so I stopped timing.
For context, most boards seem to take around 3 to 4 hours to recharge with their stock chargers. Recharging 1700Wh in just an hour and a half is kind of mind-blowing.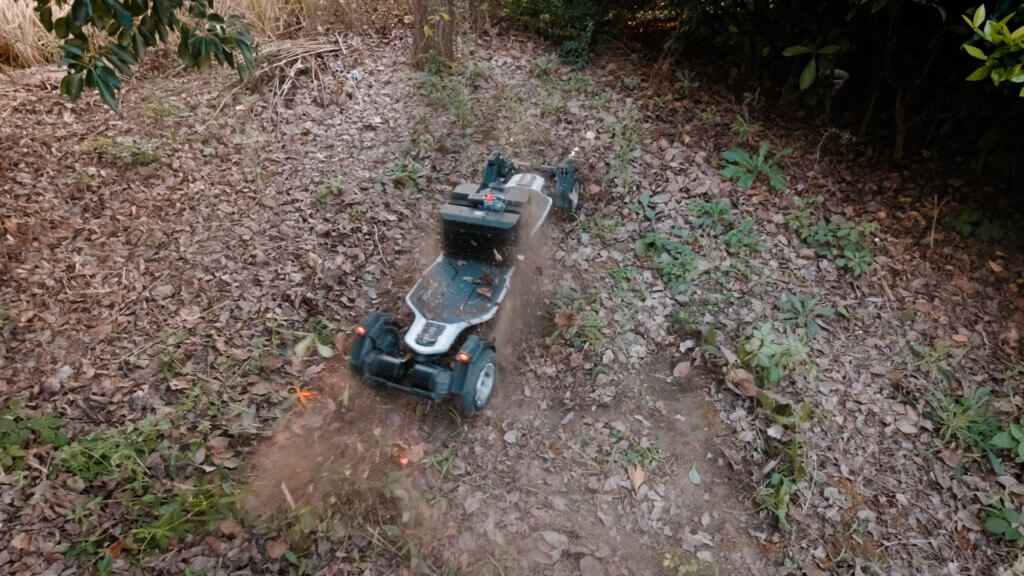 Software Updates Incoming
A number of changes and new features are currently in beta and expected to be available around the end of the year. Anyone who already has an Atlas Pro or gets one in the future will receive these updates.
I'm going to quickly go through them just so you get an idea of what types of firmware updates you get.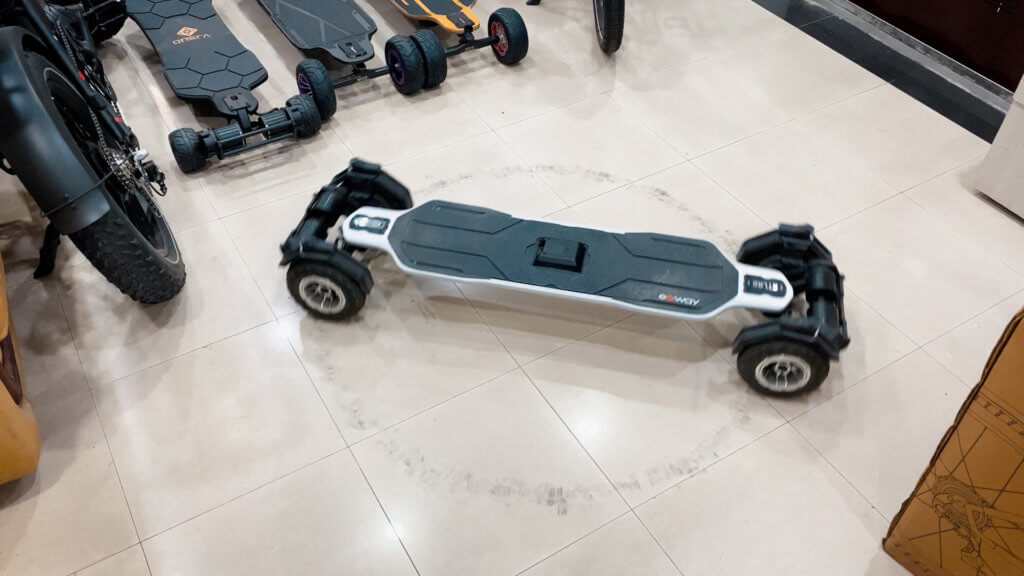 Tank Mode update
Tank Mode, also known as neutral steering, is being updated to be accessible by just double-clicking the button on the remote.
In the past, it required four clicks, which was kind of annoying. After the update, it'll be just two clicks.
Cruise Control update
For the rider's safety, Cruise Control used to be limited to 20 km/h. Based on customer feedback, Exway is bumping it up to 25 km/h.
Two clicks while the board is moving activates Cruise Control, two clicks while not moving activates Tank Mode.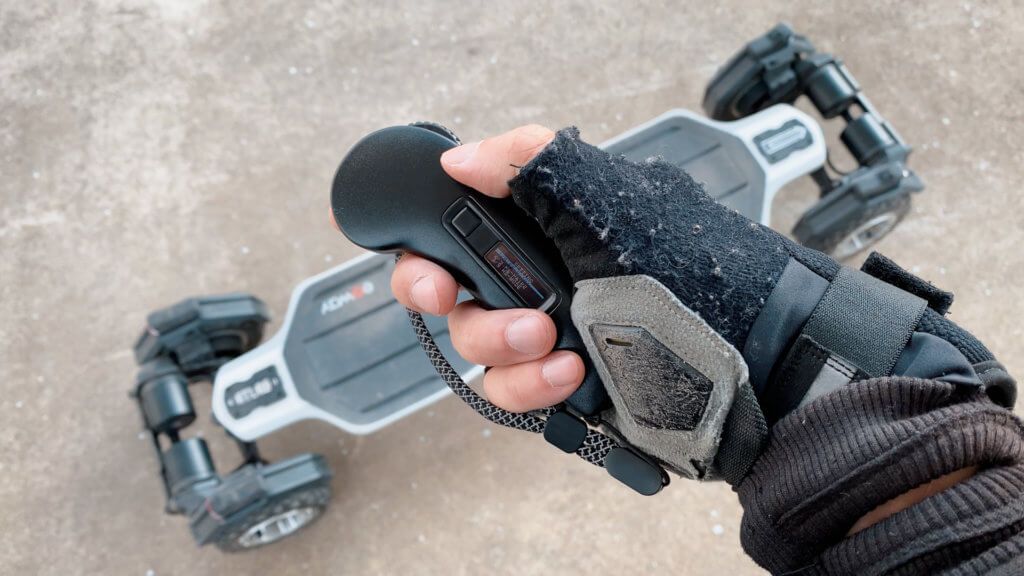 New: 2WD ↔ 4WD Shortcut
Exway got a lot of feedback from 4WD customers saying that when they're low on power, they like to switch to 2WD to conserve power.
This feature is being updated so that you can switch between 2WD and 4WD without restarting the board and without going into the menu system. It'll just be four clicks on the remote.
So four clicks used to be Tank Mode. After the update, it'll be to switch between 2WD and 4WD.
New: Parking Brake
There are times where you want to make a quick stop somewhere and you want to put your remote in your pocket. Normally you would turn off your remote first so that you don't accidentally engage the throttle.
The new parking brake feature is similar. Just like turning off the remote, the throttle becomes disabled. The difference is that the brakes remain engaged, even when you put away the remote.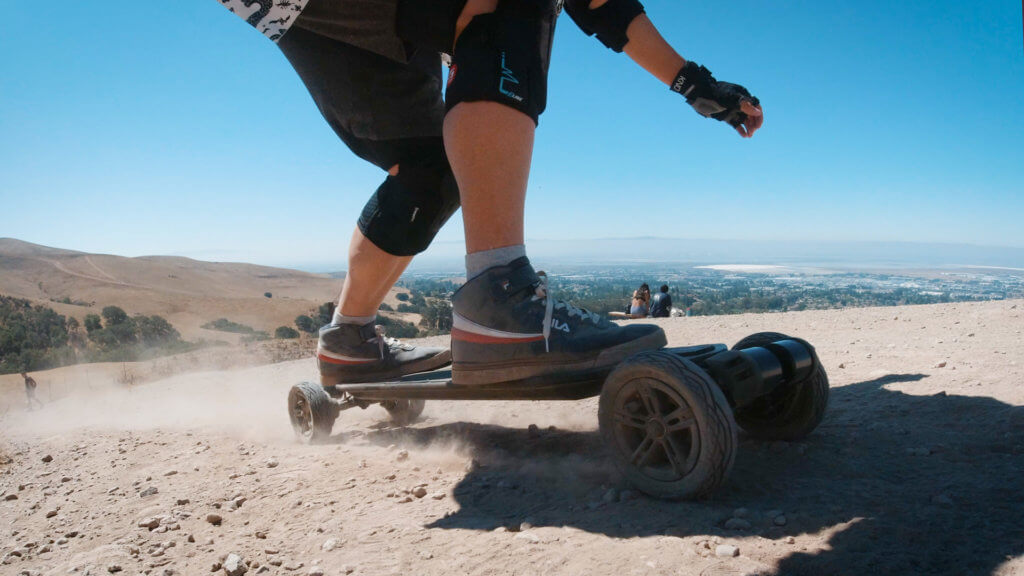 New: Traction Control
Exway has been testing out traction control for the Atlas Pro. They're doing this in three stages.
The first stage is to eliminate the loss of traction at the front drive wheels during hard acceleration from a full stop.
The second stage is to implement active traction control while riding. This is something you'll be able to turn on or off.
And finally the third stage is to allow the user to customize the power ratio for the front and rear motors. For example, 40% front, 60% rear.
The original Atlas can sort of already do this but in a different way.
Again, I'm told that these updates are expected to be released around the end of the year.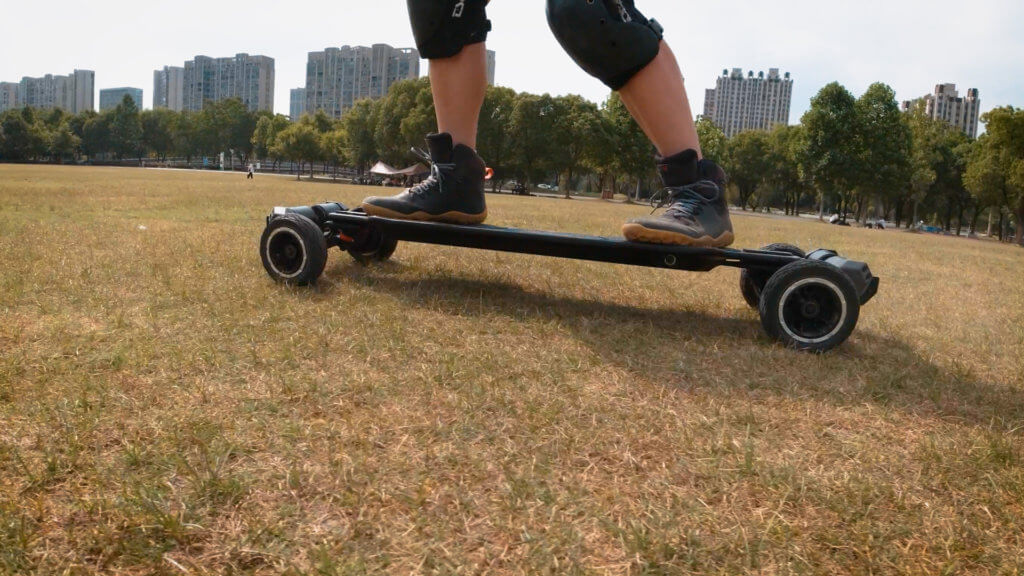 Who It's For
The Atlas Pro is an amazing electric skateboard but no board is suitable for everyone.
If you're looking for something powerful, this is one of the most powerful boards you can get right now, especially for the price.
We've gotten to a point where electric skateboards are way more powerful than what most people would ever need. I think only a small percentage of people will take advantage of the full power of this board, and that doesn't include myself.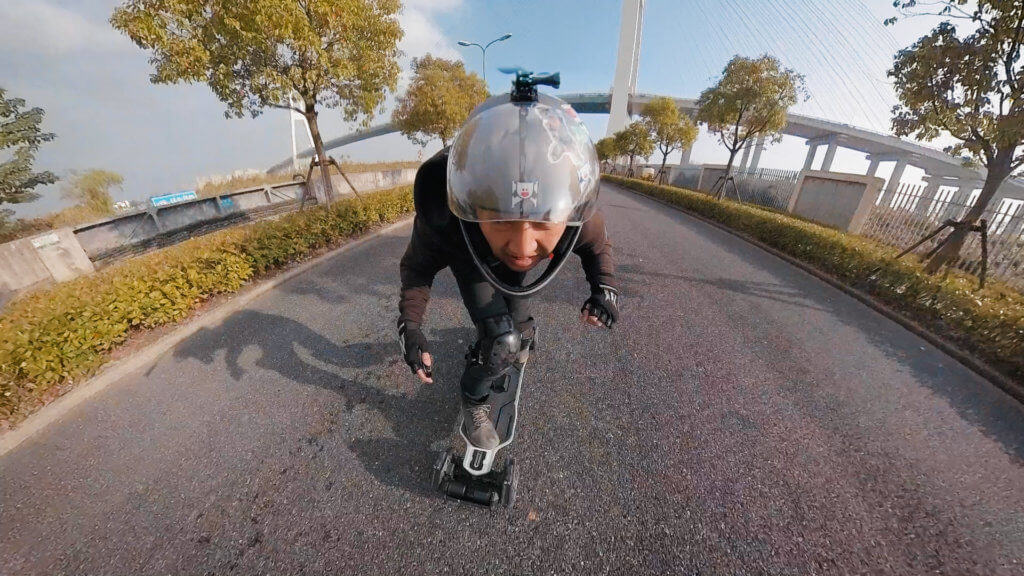 If you're looking for something long range without getting the AUXPack, there are more than a few options you can choose from. The Atlas Pro's 701Wh is a pretty modest battery capacity for the current generation of all-terrain boards.
If you do get the AUXPack, then you'll have way more range than all of the Atlas Pro's direct competitors. And because the AUXPack is an add-on battery, you can choose to attach it only when you need it.
Atlas Pro Weight
2WD 15 kg / 33 lb
4WD 17.7 kg / 39 lb
AUXPack 10.5 kg / 23 lb
If you're looking for something lightweight and portable, this board is absolutely not for you. The board is 15kg in 2WD, 17.7kg in 4WD, and the AUXPack by itself adds another 10.5kg. Tank Mode has become really handy on this board.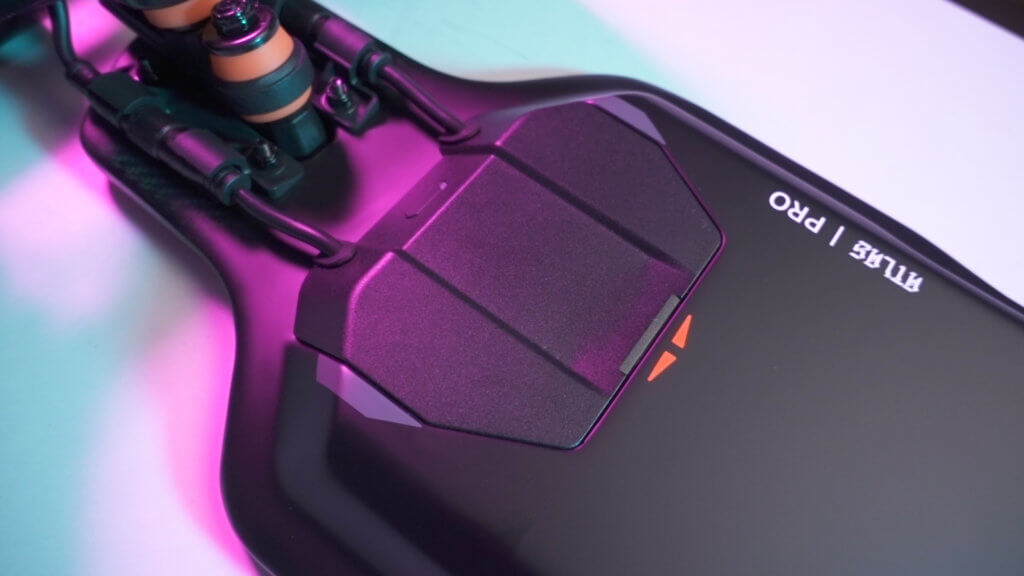 Finally, if you're looking for an electric skateboard that is a modern tech product and more than just a motorized skateboard, without pouring a lot of time and money into DIY, the Atlas Pro is the most advanced electric skateboard I can think of.
Final Thoughts
As I mentioned in another video, the Exway Wave is my favorite electric skateboard. For my use cases, its portability and features make it the most practical board for myself, despite its relatively low power and range.
The Exway Atlas Pro is pretty much the opposite of the Exway Wave. It is incredibly powerful, it goes way faster than I'll ever ride without a complete suit of armor, and by my standard it is really heavy.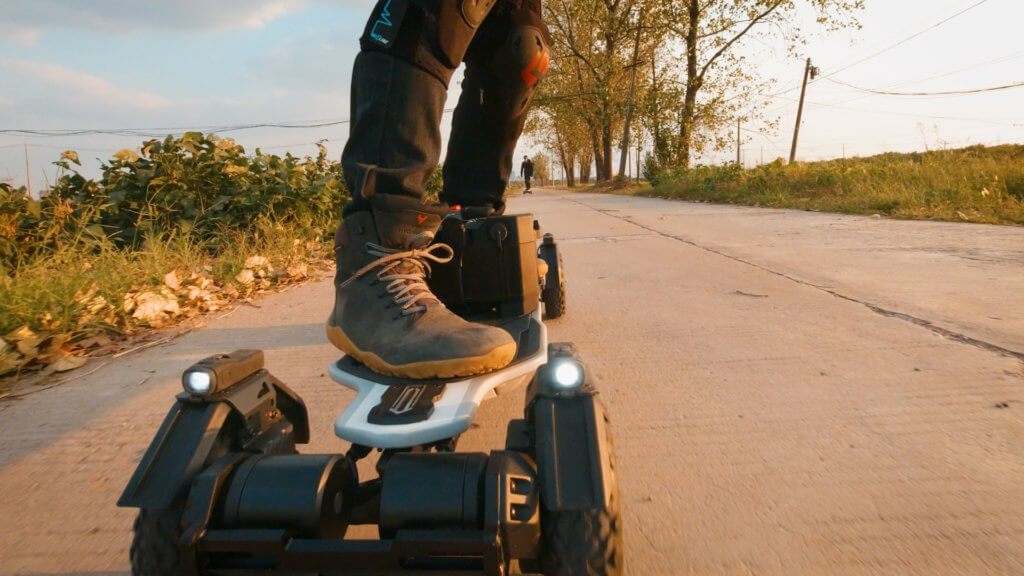 So I'm actually glad that the Atlas Pro does not use the biggest motors or have the biggest internal battery because those things would just increase the weight even more. What the Atlas Pro has instead is the most advanced tech and features that I actually care about.
I'm rarely ever going to need more than 700Wh, but once in a while I might. Maybe it's time for another road trip. No other board I know of has an add-on battery capability built-in.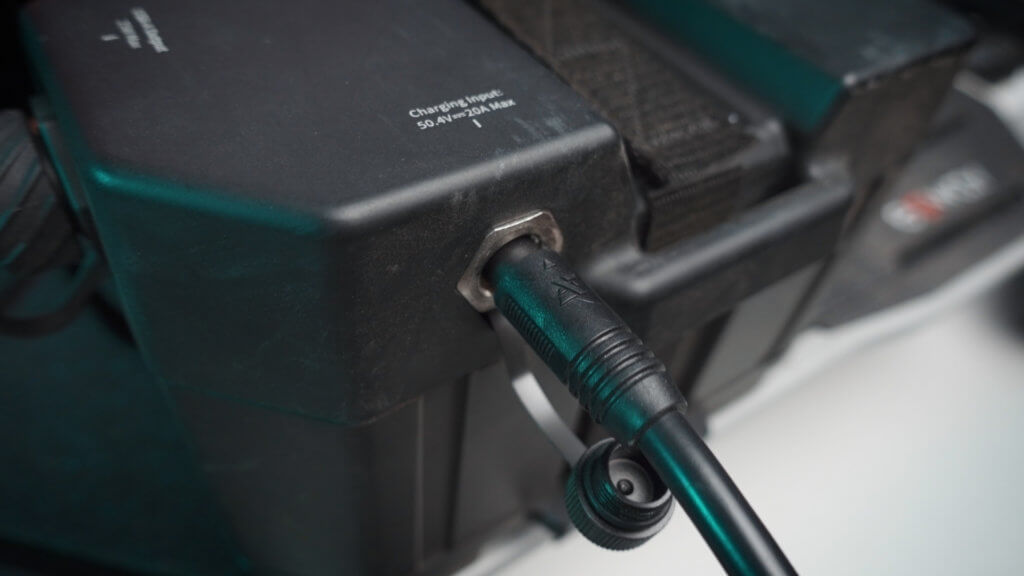 A major pain point in group rides is the recharge time and the 1000W charger solves that. No other production board I know of can even handle such a powerful charger.
Even though all-terrain boards as a category isn't my preferred type of board, the feature set of the Atlas Pro I think is quite remarkable and makes me actually want to go on a long distance ride. I hope the e-skate industry as a whole starts designing more practical solutions like these instead of continually making boards bigger and heavier.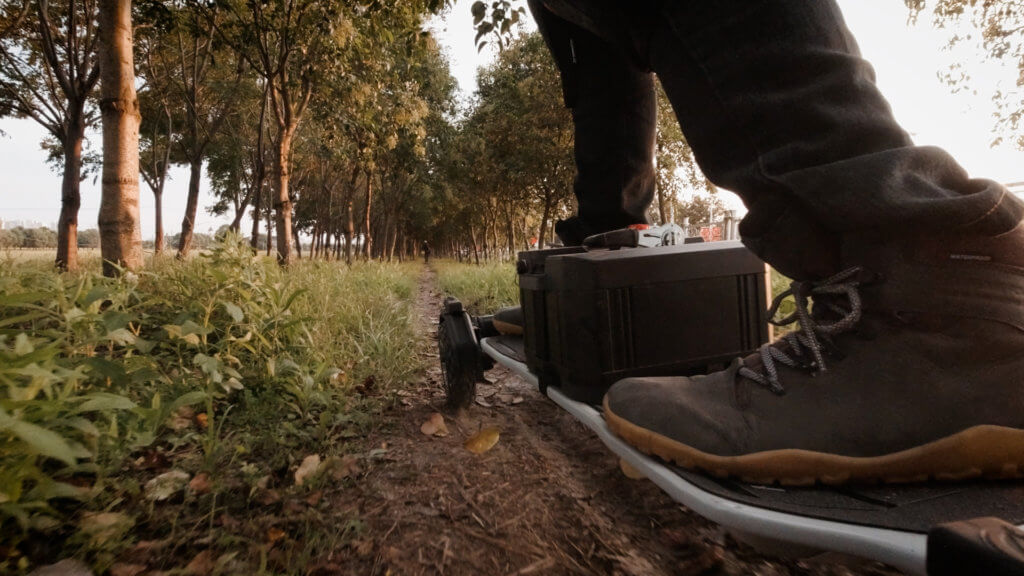 The e-skate market is tiny and there are so many other aspects of electric skateboards that can be improved to make them more desirable for the general consumer.
Anyway, I gotta wrap this up. If you have any questions, leave a comment. If this video has been informative, please hit the like button.
If you want to get this board, please go to dkwan.com/exway and use my referral code DKWAN at checkout.