The ESKI P-Bee Pro (aka Poisonous Bee Pro) is an electric mountainboard that comes in at about $2000 – which sounds like a lot but for this category of boards, it's very much on the affordable side. With a huge 1200Wh battery, giant 200mm off-road wheels, beefy mountainboard trucks and more, could this be the start of a new trend of electric mountainboards becoming accessible to the masses?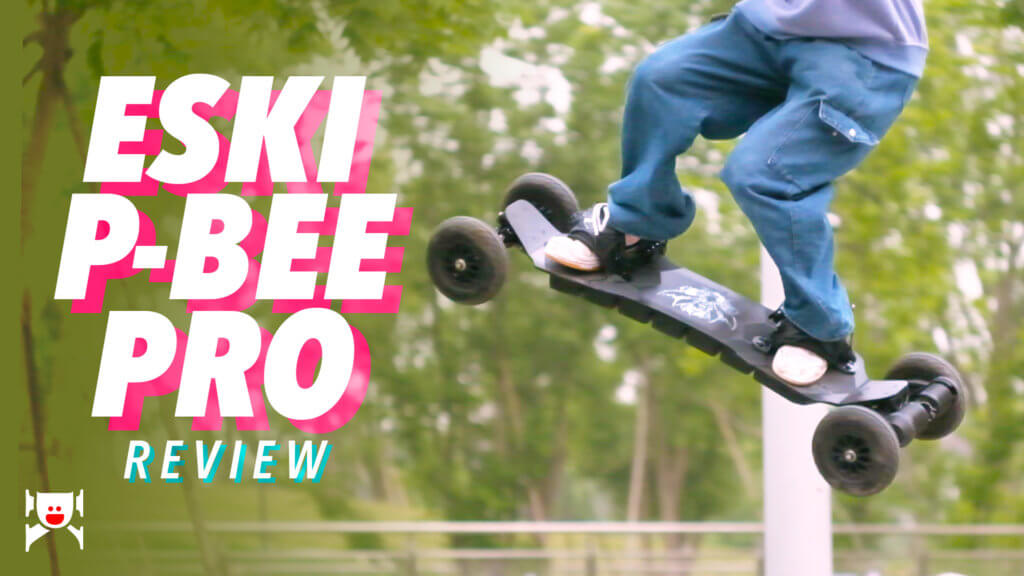 Due to the ongoing lockdown in Shanghai, my henchman Aleks – and his henchman Chase "Missing Tooth" Parker – tested this board in Hangzhou. Aleks is an experienced rider and DIY builder of electric skateboards.
The P-Bee Pro is very different from the other all-terrain boards we've been seeing on this channel, especially in the skate components so let's start this review there.
Mountainboard Components
Instead of a standard longboard deck, the P-Bee Pro is built on a mountainboard platform, like the Lacroix and Kaly boards.
From what I've been told, boards like these are extremely fun to ride especially with bindings, though the cambered deck may take some getting used to. You can do wheelies, carve really hard, and even do some jumps on and off curbs.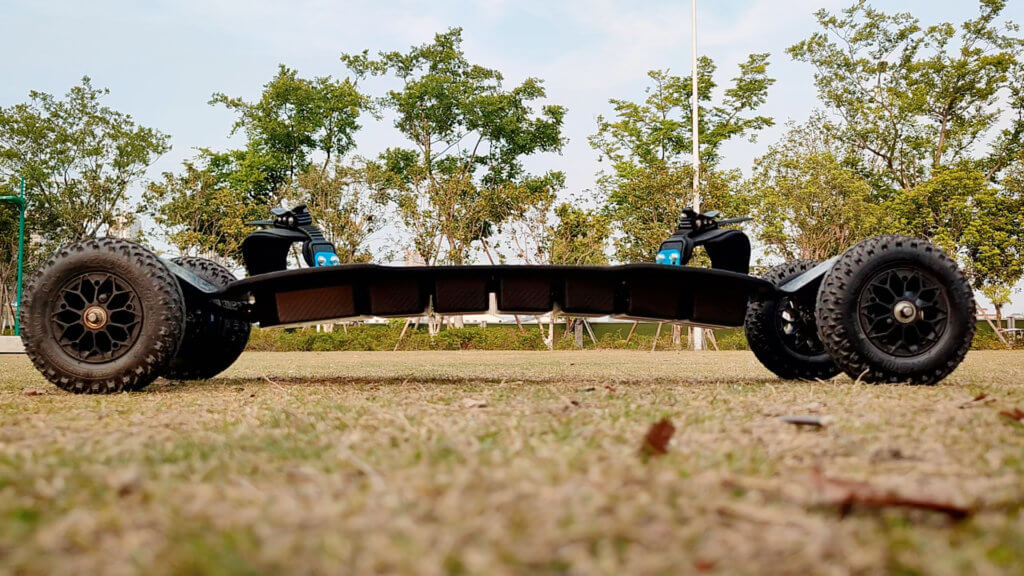 The deck is made out of laminated sheets of T700 carbon and glass fiber from Toray, a high-end manufacturer of carbon fiber. It has an upward camber and plenty of flex, with grip tape only on the areas where you put your feet.
Aleks found the deck shape to be comfortable. And the springy nature of the mountainboard deck does a better job of absorbing large bumps than the typical longboard deck.
The P-Bee Pro comes standard with forged then CNC-machined channel trucks. These trucks are similar to the MBS Matrix II but appear to be beefier. They're 12 inches wide, and come with 80A durometer bushings. Softer bushings will be available soon, and MBS bushings are also compatible.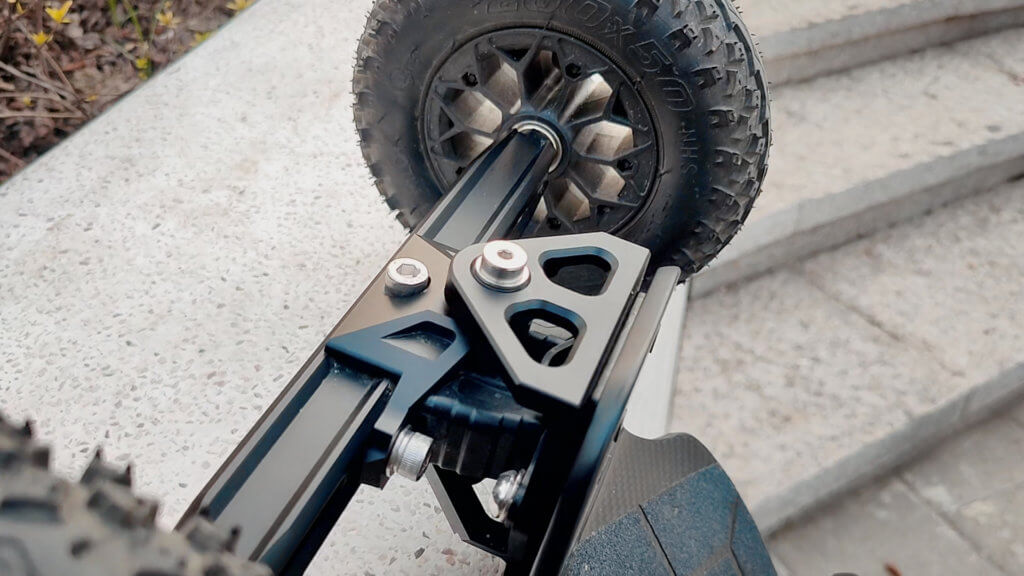 Unlike longboard bushings, a durometer of 80A is considered hard on channel trucks, and they felt a little too stiff for Aleks who weighs 75 kg or 165 lb.
The pneumatic and semi-knobby wheels on the P-Bee Pro are 8 inches or 200mm in diameter, which is on the larger side for all-terrain boards. Most all-terrain wheels we've seen on this channel have been around 6 inches or 165mm.
A pair of bindings are bolted on the deck. Aleks, who has some experience with bindings, did not like them. According to him, these bindings hurt his feet after a few minutes of riding and they slip easily during jumps. He recommends putting on MBS or snowboard style bindings, or just removing them if you don't need them.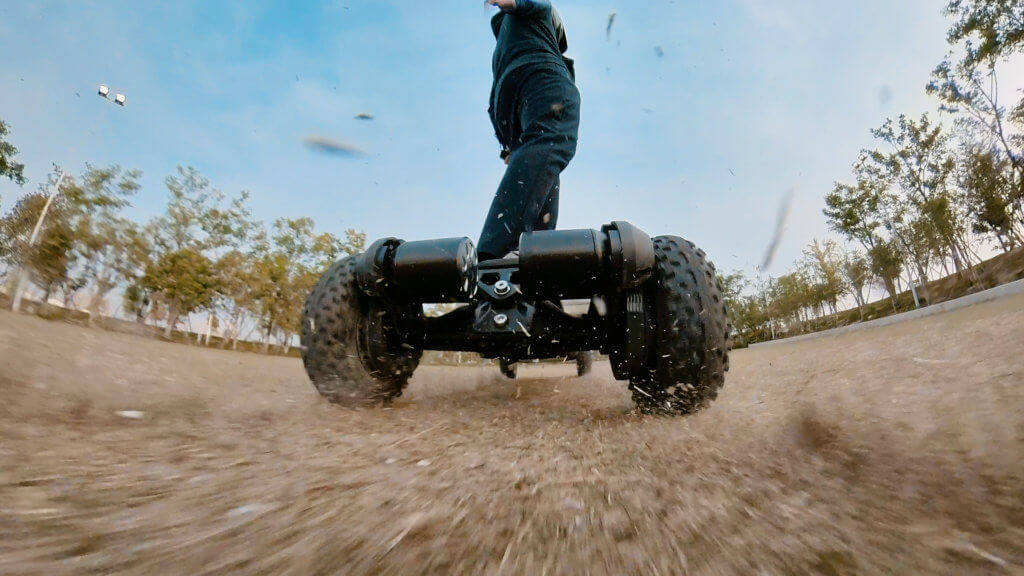 Huge Battery and Motors
At 1200Wh, the P-Bee Pro has one of the largest battery packs of any electric skateboard around $2000.
The pack is made of Lishen 21700 cells in a 12S6P configuration. Just for context, Lishen cells are used by many e-skate brands, including Exway and Evolve. Compared to the Evolve Hadean, these P-Bee Pro cells have higher capacity and higher discharge rating per cell.
Aleks, who weighs 75 kg and rides pretty aggressively, got about 48 km or 30 miles before the board died. He rode mostly on well-paved roads and a little bit of grass. With a less trigger happy rider and the right conditions, the board should be able to hit the rated range of 43 miles or 69 km.
A 4A charger comes standard, which should charge the battery from flat to full in about 7 hours.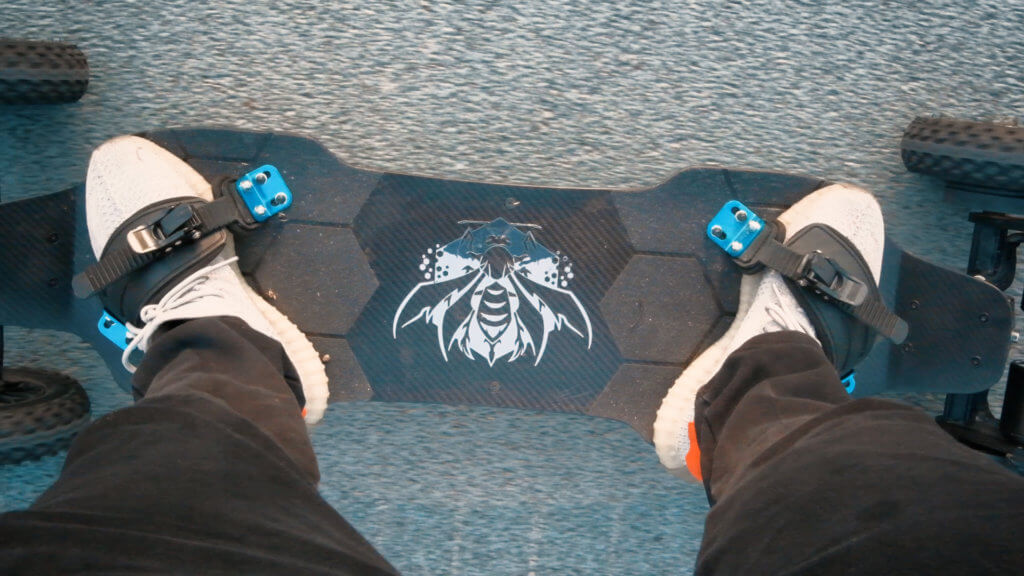 The two 6374 180Kv motors on the back sit on CNC-machined aircraft-grade aluminum motor mounts.
ESKI pointed out to me that their motors have thicker 12 gauge wires compared to the majority of the market that uses 14 gauge wires. Thicker wires are capable of carrying more current – roughly 50 percent more in this case.
You might not feel a difference when riding, but your motors would be far less likely to overheat when continually charging up a hill.
Controlling those motors is a second generation Lingyi FOC, similar to that of a Meepo Hurricane but more powerful.
The ESC features the same push to start feature as previous Lingyi speed controllers, which means you don't need to push a button to turn on the board. Aleks pointed out that he had to push kind of hard to get the board to turn on.
Like other Lingyi ESCs, the brakes keep the board in place when engaged at a full stop. This comes in handy on slopes.
And also, the brake strength is adjustable by choosing one of four different brake modes right on the remote.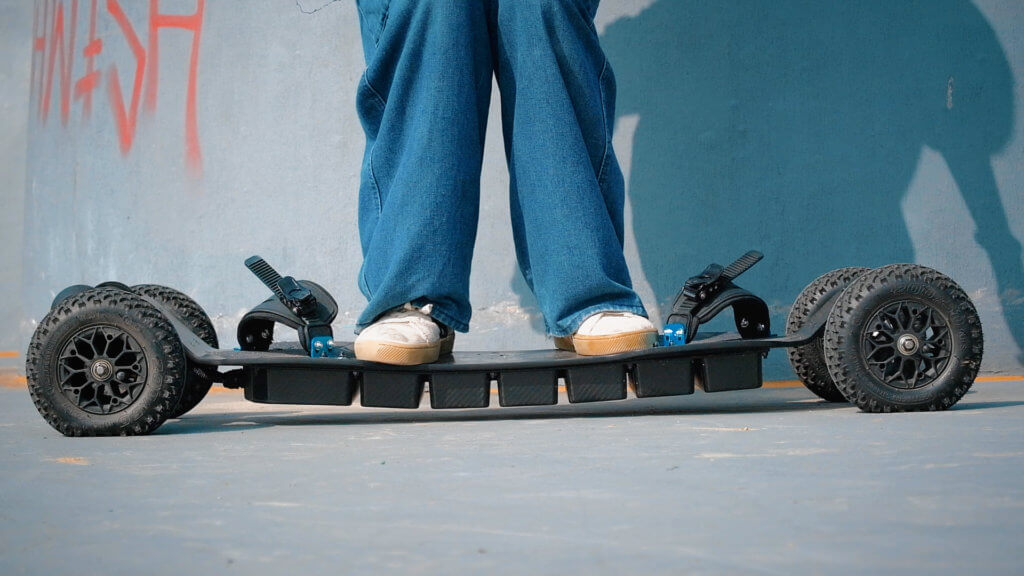 Like most e-skate remotes, acceleration and braking are controlled with a thumb wheel. There are two multipurpose buttons. The large display shows the usual e-skate telemetry data: your speed, speed mode, brake mode, an odometer, et cetera.
There's a hole for the trigger finger, and a USB Type-C port for recharging the remote.
According to Aleks, speed modes 1 and 2 felt weak, so you can treat them as beginner modes. But on speed mode 4, which is the highest mode, the acceleration felt pretty punchy and performed well on hills. Brakes were strong as well.
Fairly Attractive
Because of the silly lockdown that has been going on in Shanghai for more than a month, I have not seen this board in person. So I'll give you Aleks's opinion first, and then my opinion based on the photos and footage I've seen.
According to Aleks, the P-Bee Pro looks fantastic in person. It's the first carbon fiber mountainboard deck that he's seen, and the shape of the deck is great.
Aleks does not like those bindings, both in how they feel and also how they look. He says the power button looks quite cheap, and the logo on top of the deck peels off quite easily.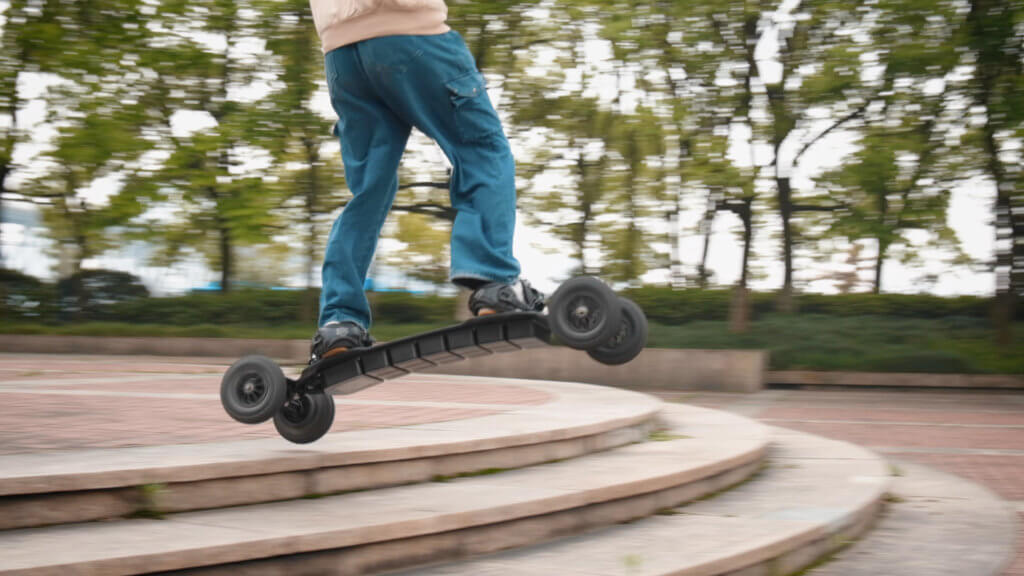 My opinion is that the board looks pretty nice overall.
The deck shape is similar to decks from Trampa and Kaly. I wish they didn't use hexagons for the grip tape because Kaly already does that.
The artwork looks all right, but with all those thin and small pieces, a large chunk of the logo is probably going to come off. Also, I think a glossy black sticker on a matte black deck would look nicer.
Always nice to see CNC-machined trucks.
The P-Bee Pro weighs about 15 kg or 33 lb. It's not really a board you'll pick up and carry around, but Aleks found it pretty convenient to pull by the front truck. It's easy enough to put in the trunk of a car and Aleks was able to bring it onto the subway.
368 Days. Not 365.
The warranty of the battery is 6 months, and most other parts are covered for 368 days. Not 365. 368.
ESKI is able to provide service to their US customers. In the US, they have a service center in Houston, and warehouses in both Houston and Los Angeles. In Australia, they have a warehouse in Sydney.
Their website has more info about aftersale and returns.
Is it right for you?
$2000 for an electric skateboard is not cheap but for the category of boards that ESKI is competing in, it's actually very much on the affordable end. Lacroix and Kaly boards both start at around $2700 and $2800 with significantly smaller battery capacities.
I'm sure that the boutique brands have other things going for them to justify their higher prices, but as a customer shopping for a cruiser style electric mountainboard, you're definitely going to look at the price and battery specs. And the P-Bee Pro looks really attractive in terms of dollar per Watt-hour in the electric mountainboard category.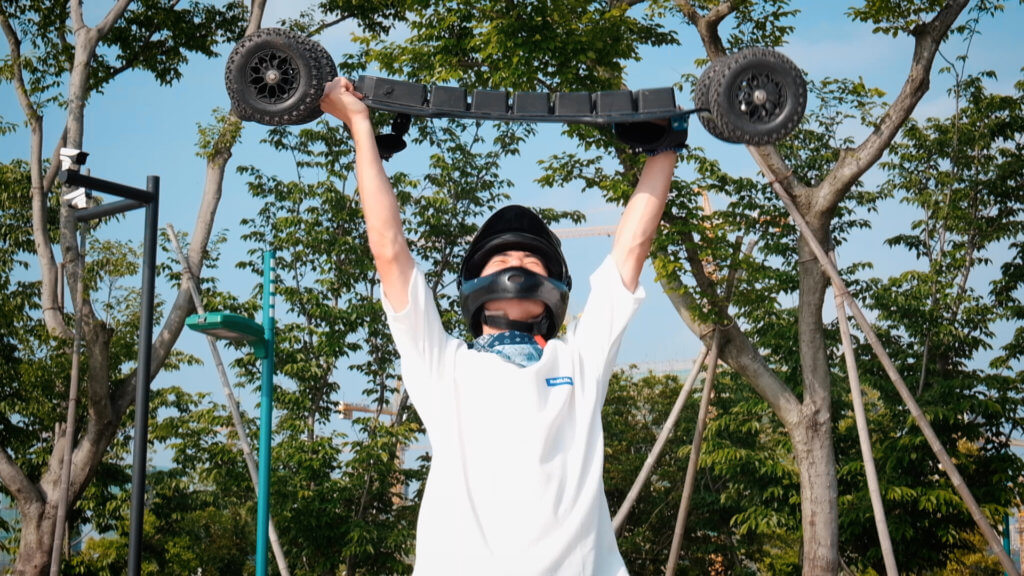 On the other hand, if you compare the P-Bee Pro with the more common double-kingpin truck all-terrain boards, it's more on the high-end price point, but it's still a really good deal if you're looking at dollar per Watt-hour.
So I would say this board is worth serious consideration for anyone wanting a very long range board for about $2000.
Final Thoughts
Unlike the double-kingpin truck all-terrain boards, there's not a whole lot of competition in the electric mountainboard category. So if ESKI does their marketing right, I think they'll be a major player in this category. But again, that depends on how well they handle their marketing.
Some of you may be wondering why the Raldey Wasp appears to be the same product. The specs are actually different, and there are some cosmetic differences, but they do share a lot of parts.
The reason is that ESKI and Raldey are essentially the same manufacturer. The owner of ESKI is the son of the owner of Raldey. I don't know the details of their arrangement, but there you go. That's the reason.
If you're interested in getting an ESKI board, you can use my referral link for an automatic discount at checkout, or use discount code DKWAN.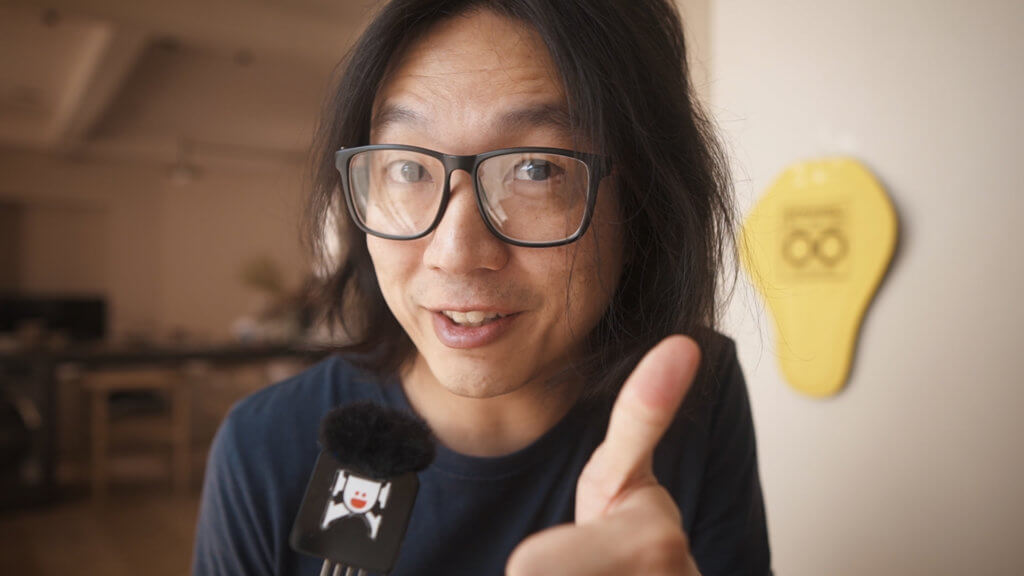 I look forward to trying out this board one day. And I apologize for not being able to try the boards I've been reviewing, but I promise you my henchmen are way more qualified than I am in testing these products.
Some of you have asked about my ankle recovery. Thanks for your concern! I can walk now. I can bike. I can hop a little bit. I can run a few steps but not really. My range of motion on my ankle is still much more limited than before, and recovery seems to have slowed – but it is still recovering.