The 2022 Zeus Pro is Ownboard's latest 2-in-1 electric skateboard, bringing with it a number of upgrades from the original Zeus which was already a highly acclaimed board. The Zeus was one of the first production 2-in-1 boards to embrace a 13S battery system, and also ditch the common double kingpin trucks for a more stable setup with split-angle traditional kingpin trucks.
For a couple hundred dollars more, is the Zeus Pro worth the upgrade over the Zeus?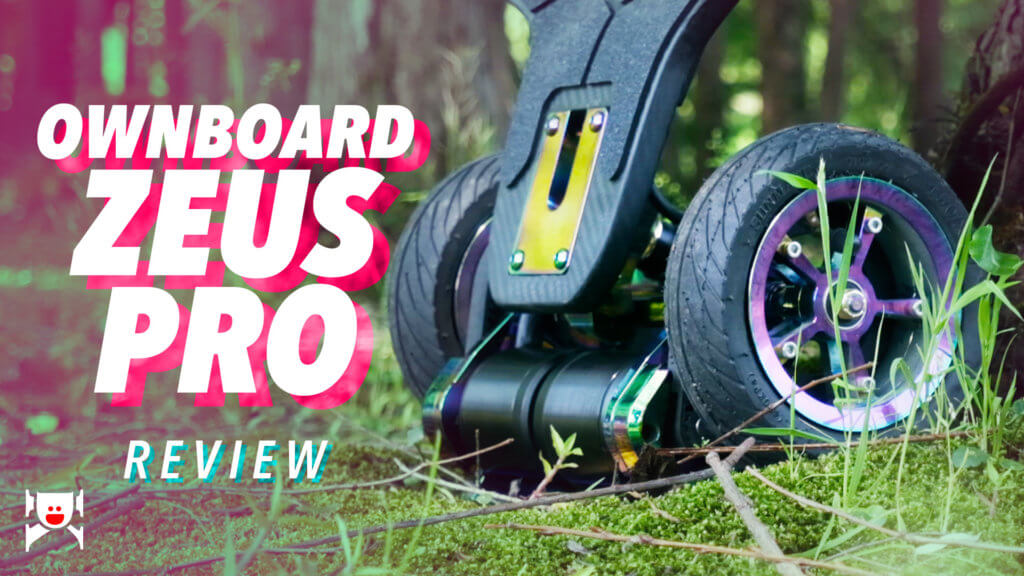 Due to the lockdown in Shanghai, my henchman Aleks and his henchman Chase "Missing Tooth" Parker tested the boards in Hangzhou.
Let's start this review with the electronics.
Electronics
The most significant upgrade from the original Zeus is probably the battery. Two options are available for the Zeus Pro: Molicel M50A with 936Wh, and Molicel P42A with 786Wh. Both options use a 13S4P configuration. 
Molicel batteries, especially the P42A, have lately become the gold standard in electric skateboards, with great capacity, performance, and longevity.
If you like riding hard, I recommend picking the P42A pack even though it has a slightly lower capacity. Due to its much higher performance under load, it's going to be more efficient, so the range is probably not too different from the M50A option. It's also a hundred dollars cheaper.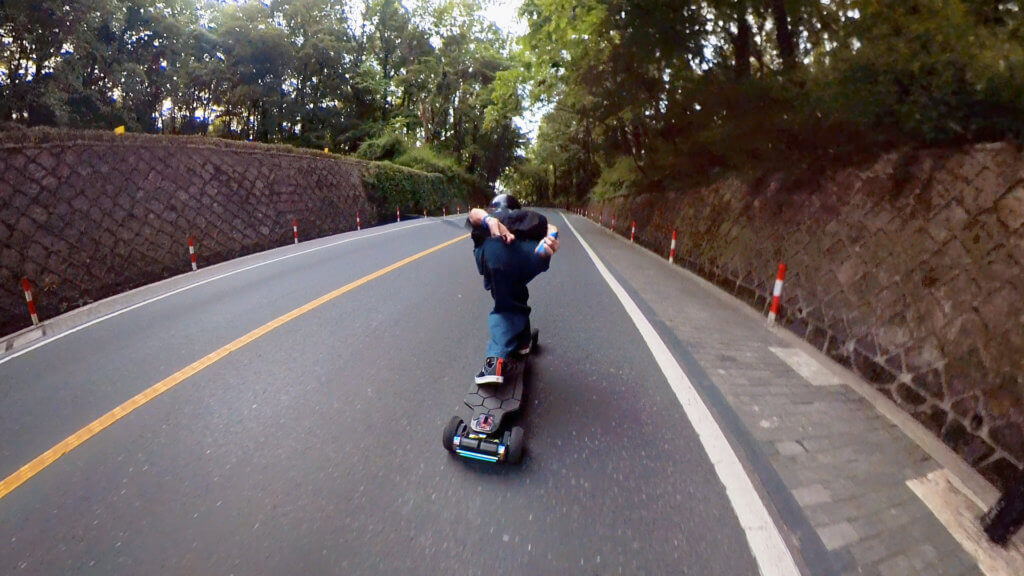 On the other hand, if you have a pretty chill ride style and just want the maximum range, go for the M50A option.
A 5A fast charger is included in the box, which should charge the board from flat to full in about 4 to 5 hours, depending on the battery configuration.
For the range, according to Ownboard, the Zeus Pro will get up to 80 km or 46 miles in a charge with the Cloudwheels, and 55 km or 35 miles with the pneumatic wheels – both using the M50A battery and with a 75 kg or 165 lb rider.
Aleks and Chase "Missing Tooth" Parker measured the Zeus Pro's range in two different configurations.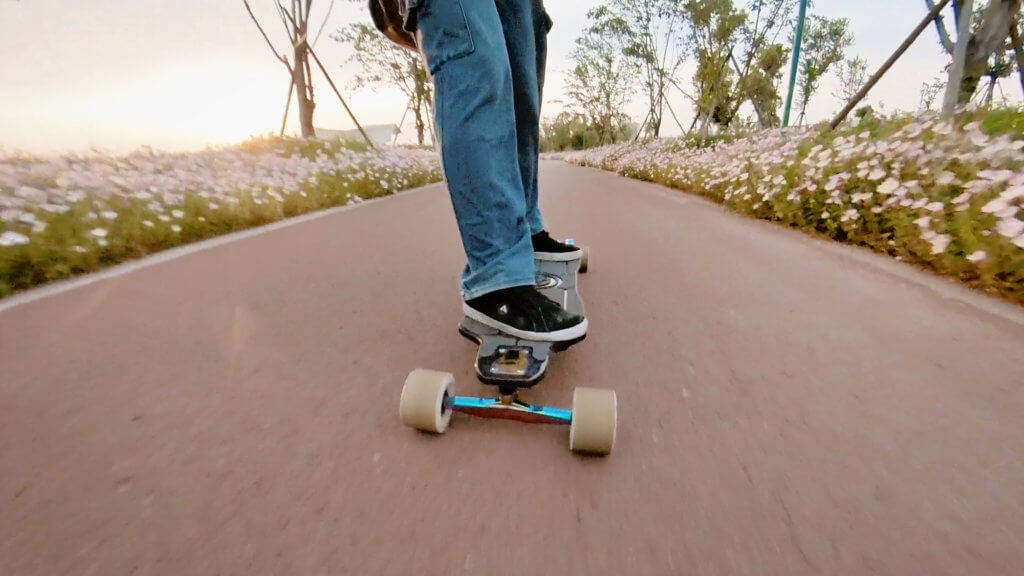 With the P42A battery and 6-inch pneumatics, Aleks got 39 km or 24 miles. He weighed about 75 kg or 165 lb and rode mostly on flat terrain. Aleks pointed out that he did not fully inflate the tires because he liked having a more comfortable ride, so that used up a bit more battery.
With the M50A battery and the Boa Constrictors, Aleks and Chase "Missing Tooth" Parker both rode the board. Not at the same time. Aleks did about half, and Chase "Missing Tooth" Parker did the rest. Together they got about 60 km or 37 miles. They rode on a mixture of flat terrain and also some pretty steep hills. Chase "Missing Tooth" Parker weighed about 65 kg or 143 lb.
Keep in mind that those were just sample range numbers and many things affect range, including your weight, how you're riding, tire pressure, inclines, temperature, et cetera.
To get a very rough estimate of what range you might get under different conditions, use the range estimator on my website. 
Like the original Zeus, the Zeus Pro sports two 170Kv 6374 motors from Dongxingwei. Pretty standard nowadays for a board in this price range, and should have no problem handling all but the most extreme use cases.
The mounts for them have the same anodizing treatment as the trucks and wheels, with an updated design for improved clearance between the motor and deck. Cross bars have also been added, improving the efficiency of the motors and doubling as a bash guard.
The Zeus Pro uses Hobbywing's latest e-skate speed controller with acceleration and braking curves customized for the new cells. Like most electric skateboards nowadays, you can turn on the board with just the remote and without pressing a button on the board.
The remote has an OLED display that shows your speed, speed mode, mileage, wheel size, battery percentage, etc. There are three speed modes plus a hidden Turbo mode that's accessed by triple-clicking the speed mode button.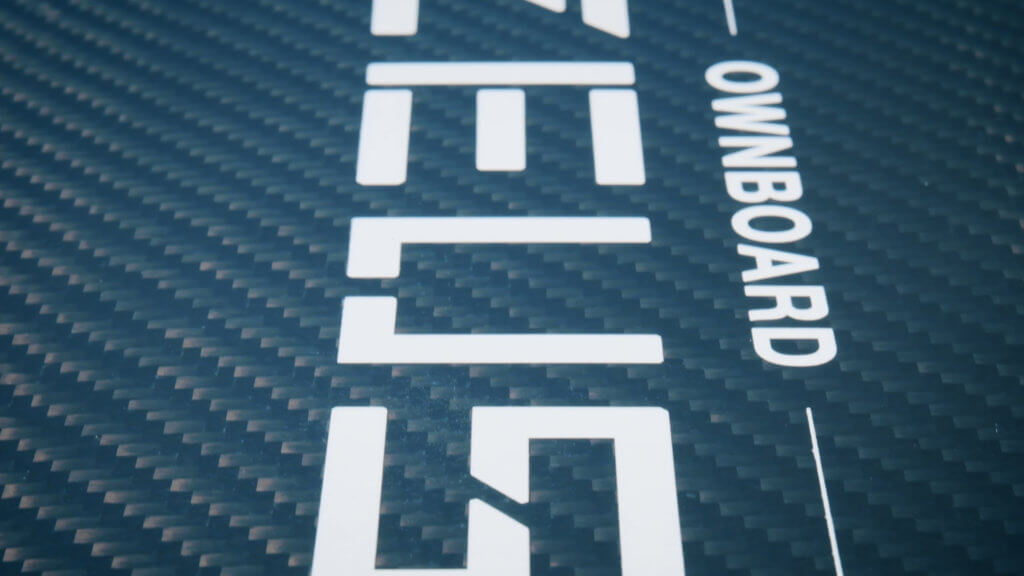 According to Aleks, who mostly rode the P42A version with 6-inch pneumatics, the acceleration and brake performance are both great. In his words, going uphill on a mountain was basically effortless. Speed modes 1, 2, and 3 are smooth and predictable like what you'd expect from a Hobbywing ESC, but Turbo mode is noticeably more punchy. As the battery drains, there's no noticeable loss of power until the low voltage warning comes on at 25% battery.
Skate Components
The Zeus Pro retains the same deck shape as the original Zeus, with the option to choose between forged and matte carbon as the deck material. The two materials should perform and feel practically the same, with the only difference being the aesthetics.
The deck size is 985 by 260mm, or 39 by 10.25 inches. It is a double-drop deck for a lower ride height and increased stability at higher speeds.
The relatively wide deck and the shock absorbing grip tape make it more comfortable and ideal for long cruises.
Aleks really likes the deck, mainly for its appearance which we'll talk about later.
The 12-inch wide split-angle traditional kingpin trucks from the original Zeus have been replaced with these mostly the same but more eye-catching trucks.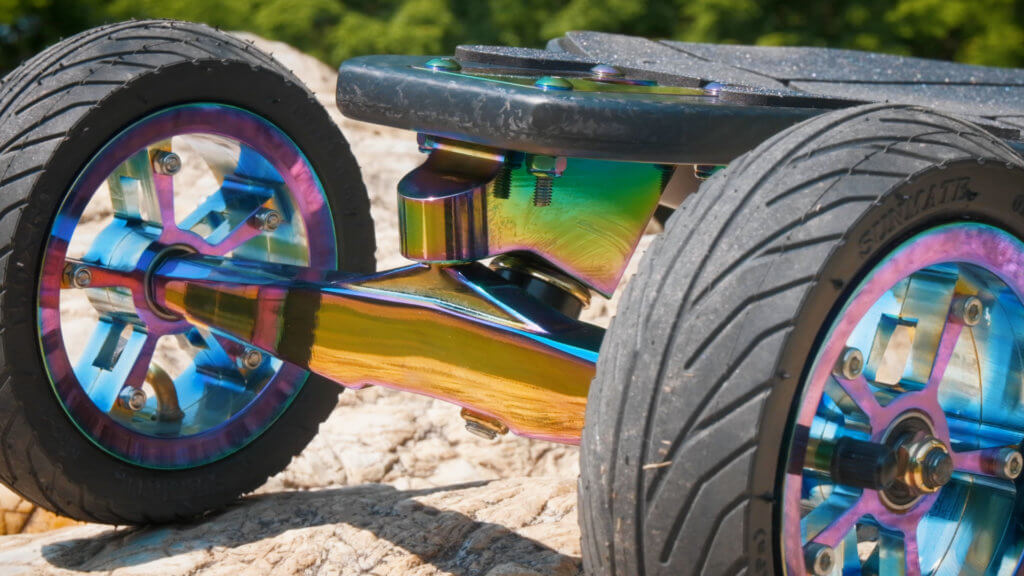 The new trucks have a forged hanger, with a forged-then-CNC-machined baseplate. The extra precision and split angle of the baseplates make the board a lot more predictable and less likely to wobble at high speeds.
Machining only the baseplate is a good move, as doing so to the hangers as well would have increased the cost by quite a bit with diminished returns. Those savings get passed down to you guys.
The trucks come with hard 99A durometer longboard bushings – cone and barrel in front, and two barrels in the back. Pretty standard stuff but what's different from just about every other e-skate brand is that they come with Riptide WFB 96A pivot cups. These are some of the best pivot cups out there for high speed cruising. The WFB formula is self-lubricating, which means your trucks will always ride smoothly without the need for constant maintenance.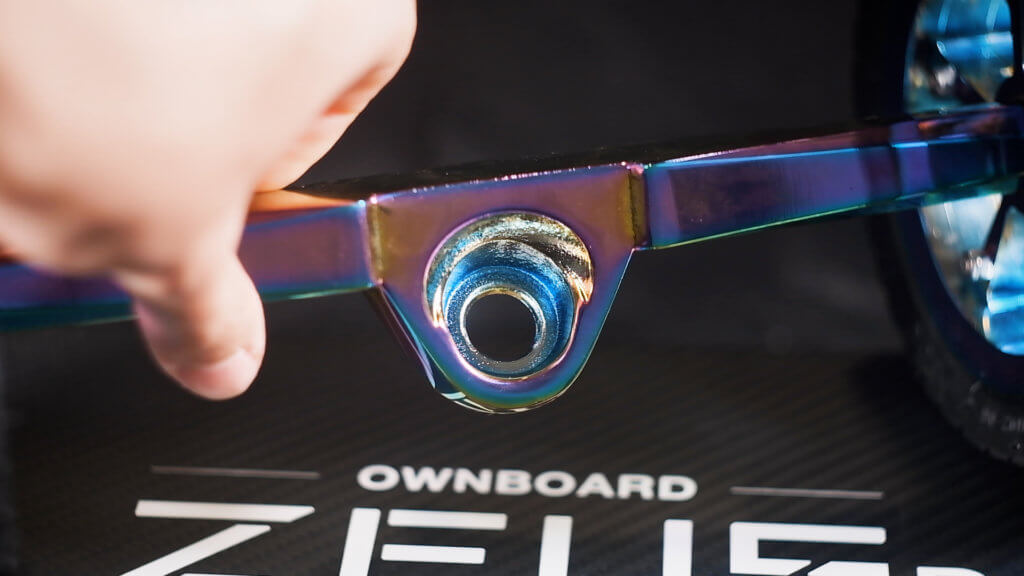 The Zeus Pro is the first electric skateboard that Aleks tried that uses traditional kingpin trucks. He described them as very stable and having smooth turns. His only complaint is that the stock 99A bushings were too hard for him, limiting the turn radius, so he switched out the roadside bushings for softer ones. 99A is really hard, by the way.
The Zeus Pro has several options for stock wheels: 120mm Cloudwheels, 100mm Boa Constrictors, and 6-inch pneumatics.
The Cloudwheels are some of the most comfortable urethane wheels if you're mostly riding on bad roads, due to their rounded profile and small contact patch.
If you're looking for a more traditional longboard feel, you'll probably want the Boa Constrictors. The smooth and wide contact patch, and the soft 76A durometer, provide more grip on pavement than the Cloudwheels.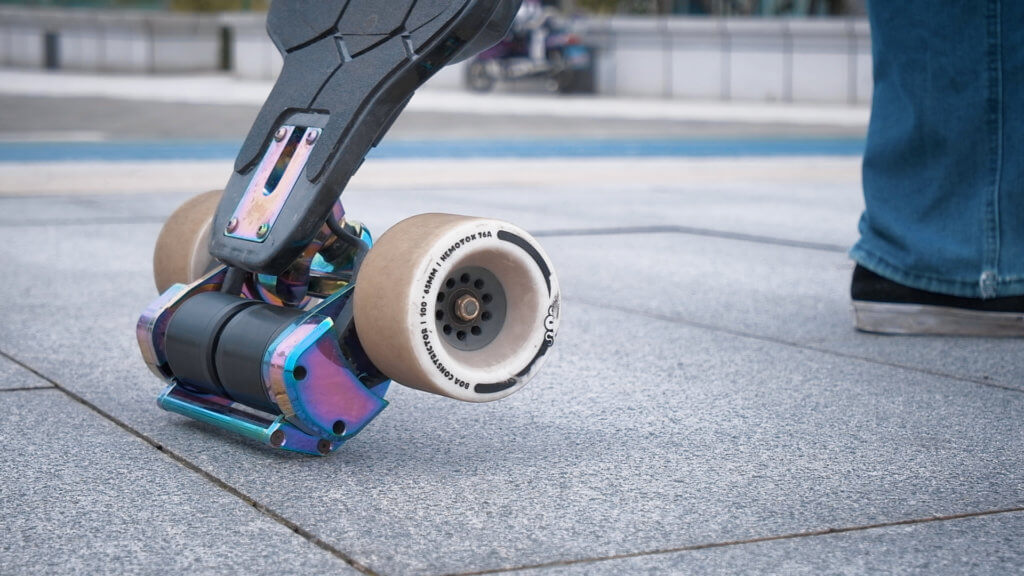 But of course the 6-inch pneumatic tires offer the most comfort and grip – if you're willing to give up some range. With a sleek tread and narrow profile, these wheels are intended for mostly street use, and some light off-roading use.
Ownboard doesn't recommend using wheels bigger than 6 inches. You can use 7-inch, but you'll need to watch out for wheelbite.
Other stuff
According to Ownboard's website, the Zeus Pro weighs about 13 kilograms or 29 pounds, which is about the same as other boards in this form factor. It's a little heavy and inconvenient to carry in your arm for more than a few minutes, but it is long enough that you can pull it.
According to Aleks, who is 180cm or 5-foot-11, the motor guard scrapes the ground a bit if you're pulling the front truck – that's even if you're using the 6-inch wheels. The board does come with a pull handle, which should resolve that issue, but Aleks chose not to install it for aesthetic reasons.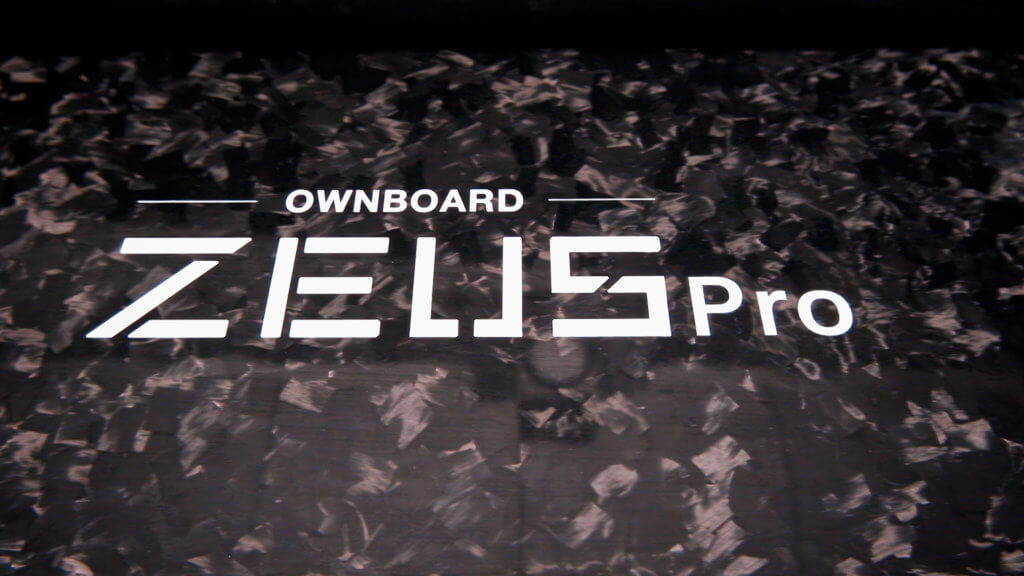 Speaking of aesthetics, Aleks really likes the way this board looks, especially with the forged carbon deck. He even likes the grip tape pattern and the mosquito repellent logo. (It's an Asian thing.)
He also likes the oil slick parts and pointed out that they look especially great in sunlight. The only issue with them is that they get fingerprints really easily. And he felt that there's a bit too much oil slick going on.
I think the oil slick looks pretty nice. It just looks very aftermarket to me.
The deck shape is really nice, but I personally don't like this grip tape design. I've definitely seen worse though.
Overall, the appearance is a mixed bag for me. There are things I really like, and things that I don't. How do you feel about it?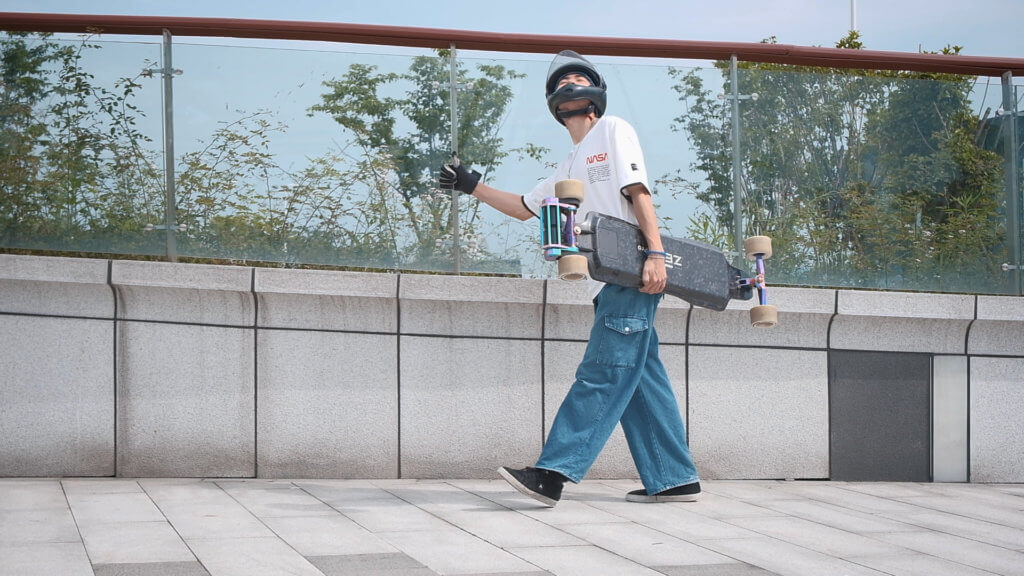 Ownboard generally does not accept returns, and doesn't provide refunds after a product has shipped. Their boards do come with a 6-month warranty to cover any manufacturing defects. If you encounter a problem with your board, you can send them an email with photos and videos explaining the problem. As long as the parts are under warranty, they'll send you replacement parts for free, including shipping.
You can read more about their warranty and policies on their website.
Who it's for
The Zeus Pro is for people who are on the fence about getting a 2-in-1 all-terrain board because of their double kingpin trucks. This is a bit of a controversial topic, even though it really shouldn't be. Double kingpin trucks are not ideal for high speeds. I'm not saying that they can't be used for high speeds, but there are obviously better options.
For high speed longboarding trucks, the obvious better option is reverse kingpin trucks, but traditional kingpin would be the next best thing and is still a big step up from double kingpin.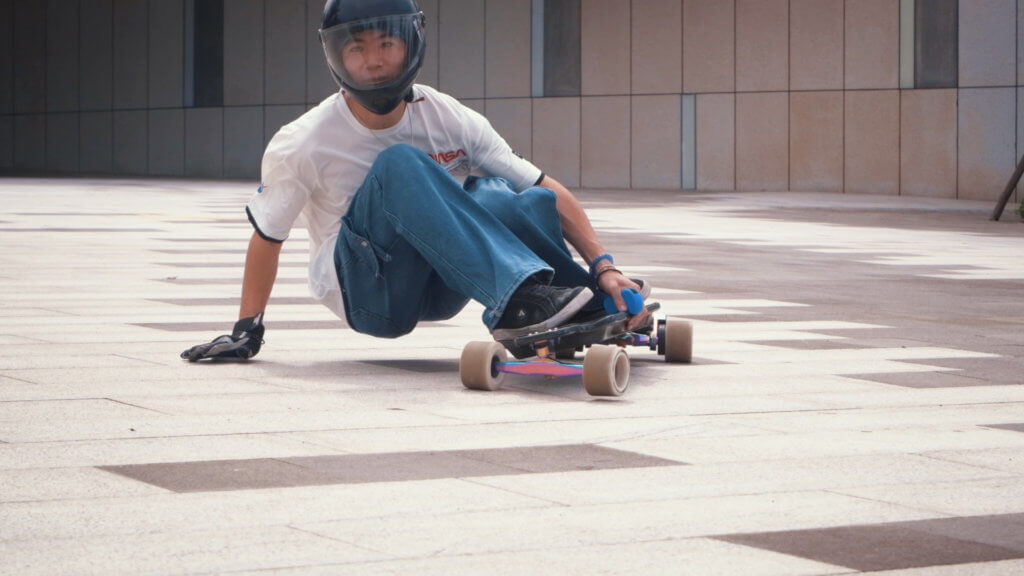 This board is also for people who want the best e-skate battery. Batteries wear down and lose performance over time – that's just a fact for any electronic device. Your phone is not going to perform the same after 3 years, and the same goes for your electric skateboard. Molicel batteries are known for their resilience and longevity. So, at least in theory, the Zeus Pro and other boards that use Molicel batteries should last longer. But we'll have to see, because this trend of using Molicel batteries is fairly recent.
Final thoughts
Ownboard has always been an important e-skate brand to follow. They might feel like just another factory pumping out boards using common parts, but their contributions to electric skateboarding have actually been significant.
As far as I know, Ownboard was first to use Hobbywing speed controllers in their production electric skateboards. And today I think most e-skate brands use Hobbywing.
They were the first to release a dual belt drive board using Hobbywing. Today there are many.
For better or worse, Ownboard was first to release a direct competitor to Evolve in the 2-in-1 all-terrain form factor. And today, the market is flooded with boards in that category.
With the Ownboard Zeus, they were first to release a 2-in-1 board that uses TKP trucks with split angle baseplates. As far as I know, today only one other brand uses those, and I wouldn't be surprised if other brands follow.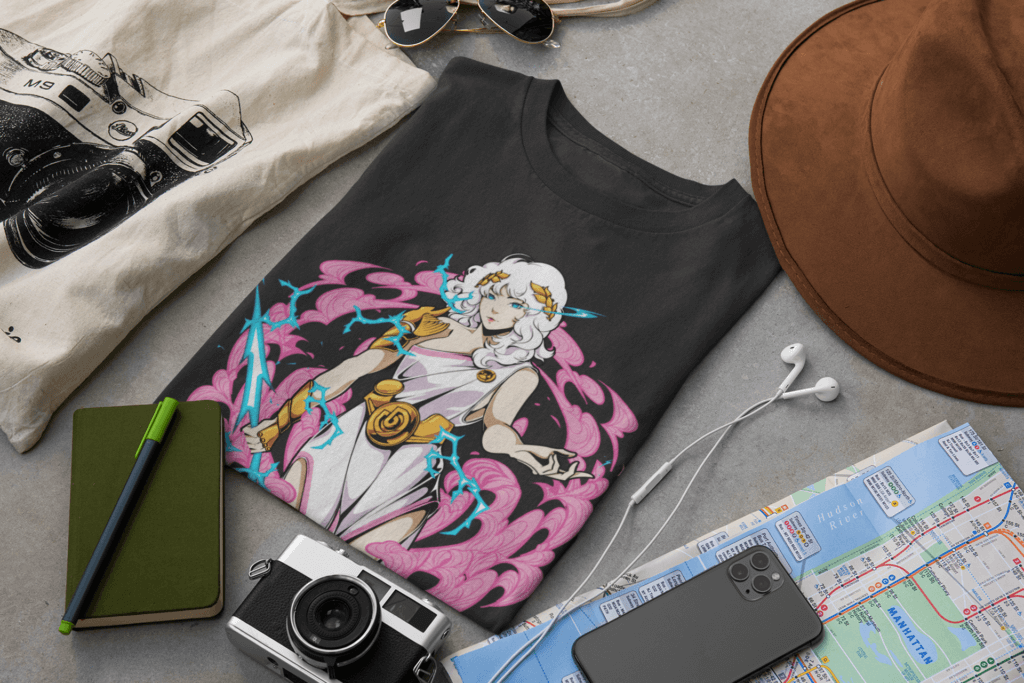 But most importantly, Ownboard is the first brand where if you use my referral discount code DKWANZEUS, you get an exclusive free tshirt from me worth $69. That's in addition to the $150 you save on the Zeus or Zeus Pro by using my code. This exclusive historical offer is available only for a limited time.